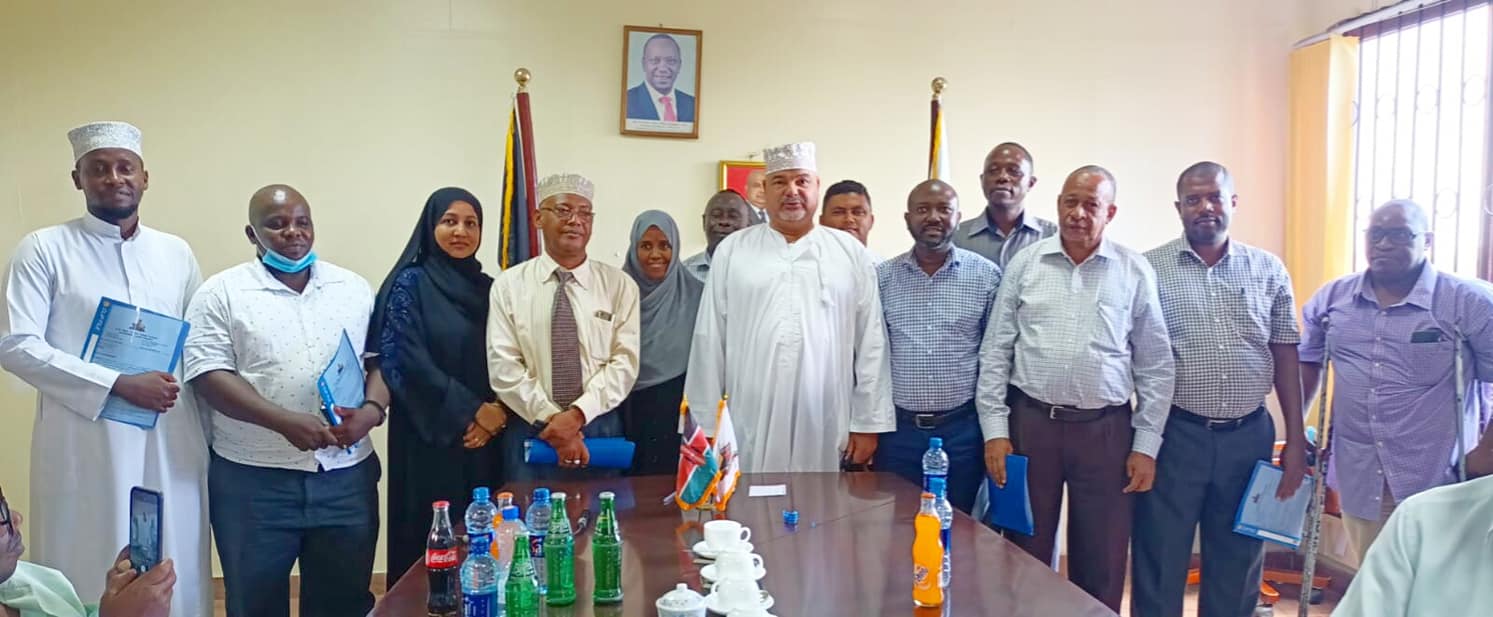 13 NEW CHIEF OFFICERS TAKE OFFICE.
13 County Chief Officers, some who have been serving in the same capacity in the County Government of Lamu, were today officially appointed into their respective offices, following the recently concluded interviews by the County Public Service Board and their subsequent vetting by the County Assembly of Lamu; in a ceremony presided over by H.E Governor Fahim Twaha at the County Headquarters in Mokowe.
Speaking during the ceremony, Governor Fahim Twaha underlined that; only qualified and experienced nominees were rigorously and procedurally recruited and nominated as per the guidelines of the County Government Act 2012 . He advised the officials to take to their duties with zest, reminding them that, the offices they hold are not a previlege but rather a call to service .
"With great responsibility comes great expectations. Your authority is delegated, you are not elected, my administration will not tolerate corrupt officials or any action that will undermine the integrity of the offices you hold and the County Government as a whole. We have high expectations that you will deliver services and will be responsible in utilization of public resources." Said Governor Fahim.
He further warned that "As Accounting Officers, you are professionally and personally accountable for fiscal discipline in your departments, you must observe the highest levels of integrity and accountability in managing public resources. The funds under your care is tax payers money . I don't need to remind you how valuable this money is to them, they have payed dearly through both direct and indirect taxation. It is your duty to make sure Lamu residents get services with transparency.
"He encouraged the COs to hit the ground running to sustain the development tempo which his government administration was focused towards, reminding them that they are on probation and their performance is subject to review in three months time.
Those who received appointment letters are;
1. Ms. Malika Ali Omarb( Publis Service Management and Administration and ICT)
2. Dr. Victor mwakio tole ( Medical Services)
3.Ms. Salma Omar Ahmed ( Budget Strategy and Economic Planning)
4. Mr. Alex Katana Jimbi (Lamu Municipality )
5. Mr. Abdulfatan Hasan Ali (Public Health, Environment and Sanitation)
6. Eng. Joshua Mutua Ndovoi (Roads Transport,Infrastructure, Public Works and Energy)
7. Mr. Joseph Kareko Gikony (Water Services)
8.Mr. Said Mohammed Bwanamkuu ( Lands, Physical Planning and Urban Development)
9. Dr. Joseph Ng'anga Kuria (Gender, Youth Affairs, Sports and Social Services)
10. Dr Charles Gichohi Mathenge (Food Security and Co-operative Development)
11. Mr. Mohammed Rashid Dirie ( Fisheries and Blue Economy)
12. Mr. Fadhil Maamun Ali (Finance )
13. Mr. Abdalla Ahmed Ali ( Education Technology and Vocational Training)
In attendance were County Executive Committee Members, County Secretary, Chief Officers, County Public Service Board Members among others.
For more information contact: Lamu County Government Communications Office at info@lamu.go.ke