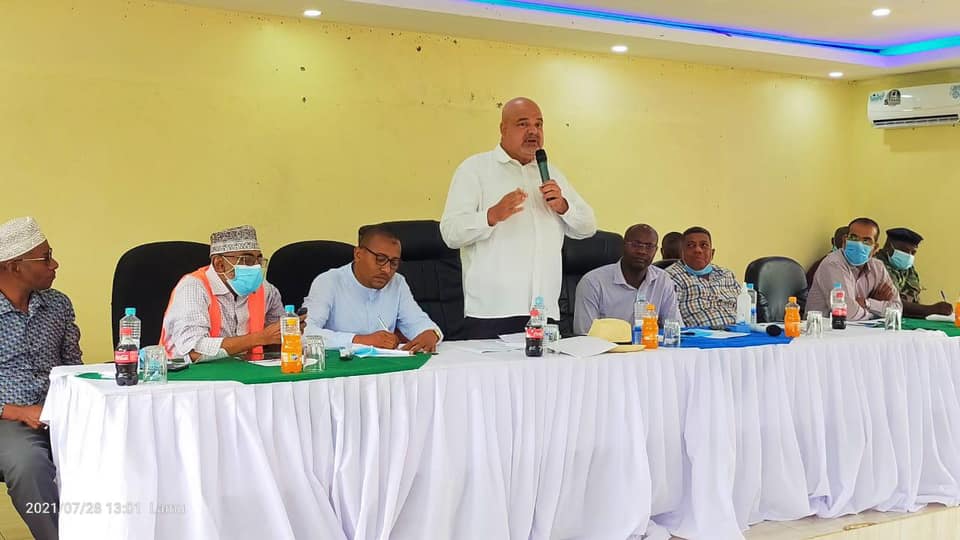 Lamu County Government has today signed a 'Go Blue' Skills Development memorandum of understanding with CAP YEI – Youth Empowerment Institute that will enable youths to pursue value chain development courses at Lamu Technical and Vocational Training Center.
The two year project memoranda focuses on introducing courses that major on skills development in predetermined sectors as well as exploring value chain opportunities, bridging linkages between the blue economy, sustainable economic development, and the economic growth.
Speaking during the MOU signing ceremony that was held at Lamu Vocational Training Center, Lamu Governor HE. Fahim Twaha said the project would provide youth with skills that can be used to improve employment and livelihood prospects for our youths. The Governor who is also the Council of Governors Blue Economy Committee Chair, further urged the youths from Lamu to take the opportunity to train, since all courses offered in Lamu are fully sponsored.
"My government shall support this program by providing an infrastructure facilities that will include construction of 4 classrooms and Lamu TVET, and provide support for demonstration of demand driven skill model for deserving youths" said the Governor who was speaking shortly after officially opening the renovated Lamu TVET ICT Laboratory that has been installed with 40 computers. He further lauded the CAP initiative saying it will be gateway for tapping into tourism industry by ensuring youths get courses that will integrate them into the Industry.
"In 2018 we had an enrollment of 447 students and today we have 3,265 students in our main training centers and satellite centers that we have started across the county" Said Governor Fahim.
CAP Director for Youth Empowerment Institute Mr. Ashok Ankathi noted that, CAP was committed in building capabilities of Lamu TVET on demand driven skill training model to integrate and sustain the model for a period they will be in Lamu.
"CAP will facilitate market scan and identify potential training sectors to impact the demand driven skills based on market needs" Noted Mr. Ashok.
Lamu County CECM Education, Vocational Training, Technology, Youth Affairs, Sports, Gender and Social Services Hon. Paul Thairu HSC said the partnership is a new dawn in creation of an inclusive and sustainable economic growth with job impact opportunities to our youth. "Already the county government of Lamu has made tremendous steps towards supporting the education sector by ensuring every student has access to education. This MOU partnership will entrench our efforts towards the realization in offering courses that will make our graduates competitive in the job market" Said Hon. Thairu. He further noted that since 2018 over 2,000 students had graduated from Lamu TVETs and VTCs and all had been absorbed into the job market.
With scholarship program and bursaries to all students, Lamu County has seen a tremendous improvement in school enrollments that has in turn seen the county bursary budget increase from Kes. 60 Million in 2018 to Kes. 250Million this year.
Lamu TVET Board Chair Mr. Ali Shebwana thanked the County Government of Lamu for renovating the ICT lab saying it will enable students pursuing ICT related courses to do their practicals with ease. He further commended CAP Youth Initiative for selecting Lamu TVET as its hub adding that the management will remain committed to ensure that students get the best training from the facility. "In 2018 this facility had 17 students and today we have 621 students pursuing different courses. With this partnership that we have signed today Lamu TVET will get more enrollments and the only way we can give back to our society is by giving them competitive and professional graduates" Said Mr. Shebwana.
County Public Service Board Chairman Hon. Abdalla Fadhil who was also present said the recruitment of trainers on permanent basis will commence soon. He emphasized on the need to give the trainers stable employment since it's the only guaranteed way they would perform their tasks comfortably.
Also in attendance was Lamu OCPD Mr. Nyawa Murinzi, Go Blue Project Manager Yashpal Sihag, GIZ TVET Advisor Ms. Brenda Kibiku, Ms. Gladys Mnjama- JKP member, Lamu Municipal Manager Mr. Omar Famau, Lamu TVET Director Mr. Fidelis Mulei, Lamu County VTC Managers Mr. Fidelis Mulei, Mrs. Mercy Ndaru, Mr. Stephen Mwangi, Mr. Farah Mzee, Ms. Maryam Hasan among others.
-Ends-
Story by: Governors Press Service
Photo Credit: Adam Musa & Samuel Mkare
For more information contact:Lamu County Government Communication Office at info@lamu.go.ke