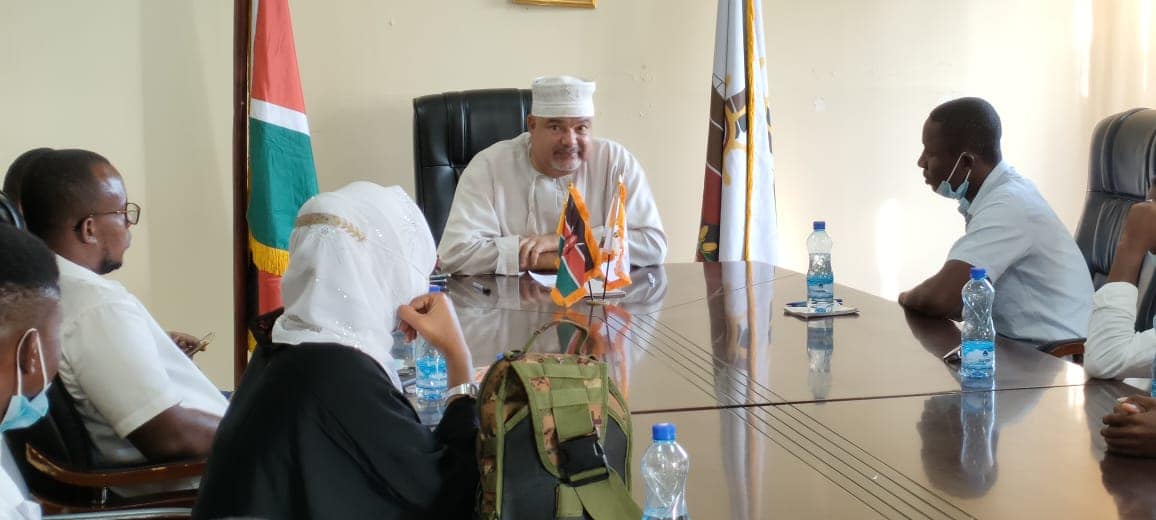 A delegation of students from Kiunga ward undertaking different courses at the Lamu Technical and Vocational Education and training center paid a courtesy call to the office of the Governor at the County headquarters in Mokowe .
The youths, led by Hussein Shali (Marine Security Course ), Rashid Aboud Bwana(Vessel Repairs Course) and Ali Sadik(Maritime Transport and Logistics course); lauded Governor Fahim Twaha and the County Department of Education for the great strides in ensuring that youths in Lamu are empowered and well prepared to take up opportunities that accrue from the LAPSSET . They challenged other County youths to take advantage of the expanding Technical and Vocational Education and Training (TVETs) opportunities offered by the County government of Lamu .
Governor Fahim Twaha's administration has made far-reaching reforms in the TVET sector to churn technologists and artisans required to contribute to Kenya's and Lamu's industrial goals . Already , the county has opened 14 satellite polytechnics across the County, scrapped off fees in all of them and expanded the curricula. This has increased the number of trainees in local TVET's to over 3,500 from just 447 by end of 2017.
Governor Fahim Twaha congratulated the youths for taking initiative to better their lives through education saying the TVETs opportunities will equip them with employable technological skills not only in LAPSSET but also in other associated projects .
"The LAPSSET Corridor Program has components such as the Port, Roads, Railways, Pipelines, Refineries and fishing port which requires technical expertise that is mostly imported from other Countries and Counties. The more we improve our youths technical skills, the more we will change that equation," said Governor Fahim.
The youths assured Governor Fahim Twaha that they will take full advantage of the opportunities provided by TVETs, saying they are ready to proceed for higher education upon completion of their courses under the County's higher education Bursary funds for college and University students .
Lamu County's commitment to increase the number of graduates with technical expertise, mirrors the national government's ambition to reduce a skills gap that exists in building infrastructure in line with Vision 2030 development goals.
In attendance was the LAWASCO Managing Dirrctor Mr. Paul Wainaina.
_Ends_
Story by: Athman Omar
For more information contact:
Lamu County Government Communications Office at info@lamu.go.ke