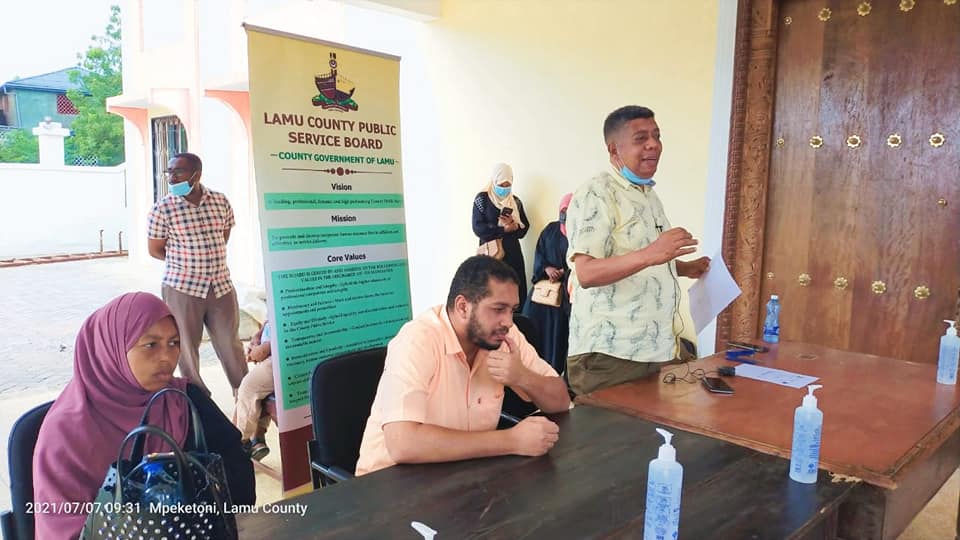 BAHARI WARD HUMAN RESOURCE AUDIT
The ongoing 3rd human resource audit for Lamu County was today 7th July, 2021 conducted in Bahari ward, Lamu West Constituency .
The Lamu Public Service Board(LPSB) Chairman Mr. Abdalla Fadhil and his team started off at the Bahari ward administrator's office where public service officials from Uziwa, Tewe, Mapenya and Kiongwe Dispensaries and ECDE center, ward administrator's office and ATC were duly audited at the Bahari Ward administrator's office.
Mpeketoni hospital staff were audited at Mpeketoni Sub County Hospital.
The LPSB-led exercise aims to ensure legal compliance; identify processes and skills gaps, efficiencies in documentation and technology, training, communications and relevant employment practices necessary to improve service delivery.
Tomorrow 8th July, 2021 is the final day as per the schedule and the LPSB team will be in Witu Ward at Witu Health center and Witu administrator's office .
The exercise will be extended for a day to 9th July 2021, from 8:00 am to 4:30pm to accommodate those officials who missed, as well as those who didn't return their questionnaire form with the required documents.
The officers are required to come with the documents outlined below and a letter from their supervisor explaining reason for their absence during the specified dates.
-A duly filled form to be provided by their department
-Copy of ID
-Academic Certificates
-June 2021 payslip certificate
-First letter of appointment
-Letter of last promotion
-Ends-
Story by: Adam Musa and Abdalla Simba
For more information contact:
Lamu County Government Communications Office at info@lamu.go.ke