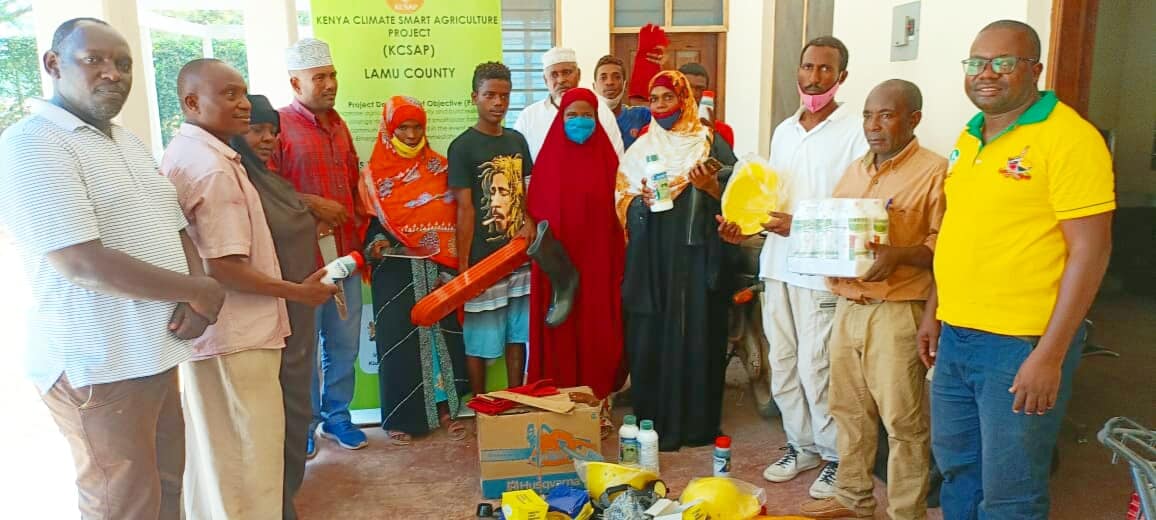 FAZA FARMERS GET CASHEW NUT PRODUCTIVITY EQUIPMENT AS THE COUNTY EXPLORES INDUSTRY TRADE AND INVESTMENT OPPORTUNITIES
Four common interest groups in Faza Ward have received cashew nut inputs for improving cashew nut production as part of the initiative by the Lamu County Government in collaboration with World Bank-funded Kenya Climate Smart Agriculture Project .
Motorized spray pumps, knapsack pumps, pruning saws, fungicides for powdery disease mildew control, insecticides for pest control in cashew, PPEs such as gumboots, overalls, gloves, and googles for personal protection when handling pesticides, and other items were distributed to the four groups.
The beneficiary common interest groups(CiGs) are in the cashew value chain and include Mbwajumwali Youth Group, Wanati wa Tchundwa S.H Group, Tchundwa Focal Area Development Committee and Siyu's Tawfiq Development Women Group.
Lamu County is renown for its high-quality cashews, which are farmed using organic and fair-trade methods. Mpeketoni, Witu, and Faza are three of Lamu's main cashew nut growing areas.
Speaking at the County headquarters in Mokowe, Deputy Governor Abdulhakim Aboud, said that cashew nut processing is the next phase in the recovery of Lamu's defunct cashew nut sector.
"Lamu will benefit from this endeavor by reviving one of its most important cash crops. The cashew sector in Lamu employs alot of people both directly and indirectly . We cannot ignore the fact that it was delt a big blow following the 12-year export embargo that forbade cashew nut farmers from exporting and selling their produce to external markets in what was seen as a measure to boost indigenous industries. Our cashew farmer population fell from 10,000 to around 3,000 as a result of this," Hon. Aboud stated.
According to CECM Industrialization and Trade, Hon. Josephat Musembi, cashew is a good crop for investment and development support despite socio-economic challenges ranging from biophysical to technical directly or indirectly tied to production all of which the county is addressing.
"We are working on a robust trade and investment policy with the goal of attracting local agro-processing companies to take use of the Lamu Port's potential and the presence of an Export Processing Zone (EPZ). These firms will purchase the nuts directly from our farmers, eliminating the need for middlemen who have exploited farmers in the past. Simsim and coconut are two more oil crops that the County Trade Department is targeting,"Musembi said.
On behalf of the Deputy Governor, who is also the County executive member for Fisheries, Livestock, Agriculture, and Co-operative Development, the event was overseen by KCSAP County Program Coordinator, Mr. Steven Mbuvi, officials from the department of Agriculture, and community leaders.
-Ends-
Story by: Adam Musa
For more information contact
Lamu County Communications Office at: info@lamu.go.ke