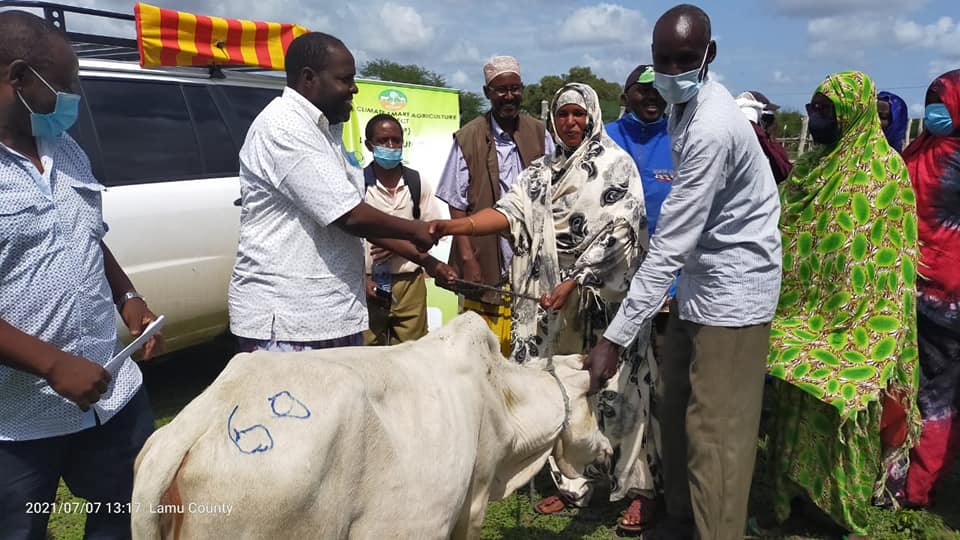 FOOD AND INCOME SECURITY FOR PASTORALISTS AND FARMERS IN WITU
Over 11 small holder farmers' groups in Witu ward have received;
-98 improved breed goats
-96 Heifers
-And an assortment of drugs for livestock treatment
This is under the ongoing multifaceted social protection program by theLamu County Government in collaboration with Kenya Climate Smart Agriculture Project (KCSAP), that aims to improve poultry breeding stocks as well as increase profitability from livestock production.
The over 300 farmers in witu ward will now have alternative ways to address climate change-related risks, and food security in the face of uncertain weather patterns.
The beneciary smallholder groups include;
-Chalaluma Walnjreeni Community Organisation
-Moa Community Parents Bursary Association
-Mzalendo Soroko Self Help Group
-Paradiso Maisha Masha Self Help Group
-Songa Mbele Self Help Group
-Soroko Talam Self Help Group
-Taufiq Self Help Group
-Ufanisi Old Town Self Help Group
-Walemavu Didewaride Self Help Group
-Witu Youth Empowerment Organization
-Woligale Women Group
Speaking in his office at the county headquarters, governor Fahim Twaha said the initiative in partnership with Kenya Climate Smart Agriculture will go a long way in enhancing food security and rural poverty eradication through improved disposable income to smallholder agro-pastoral households. He further noted that the undertaking is in line with Lamu County Government policies and KCSAP's objectives saying that County Government will continue to encourage collaboration with like minded development partners that help to push Lamu's development agenda.
The exercise in Witu ward was led by the CECM Public Service and Management and Administration, Hon. Abdu Godana and the Chief Officer Fisheries and Livestock, Dr. Charles Gichohi.
Lamu County is among the 24 Counties earmarked to benefit from the KCSAP project, a Government of Kenya project jointly supported by the World Bank, which aims to increase agricultural productivity and enhance resilience to climate change risks in select targeted smallholder farming and pastoral communities in Kenya.
-Ends-
Story by : Abdalla Simba and Adam Musa
For more information contact:
Lamu County Government Communications Office at info@lamu.go.ke