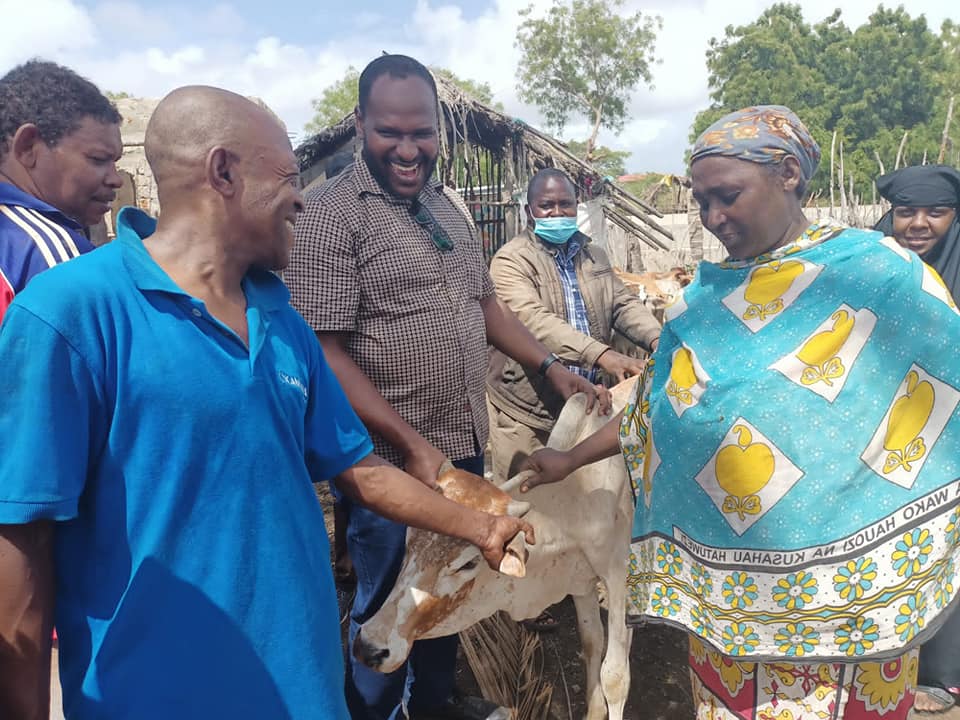 HOPE FOR FAZA WARD FARMERS IN THE FACE OF UNCERTAIN WEATHER PATTERNS
Six smallholder farmer groups in Faza ward today received 68 heifers,65 goats and one boat under the county Government of Lamu in partnership with World Bank-funded Kenya Climate Smart Agriculture Program (KCSAP).
Addressing the Group members Deputy governor Abdulhakim Aboud, explained that, the initiative aims to diversify and promote food and income security for small holder farmers across the whole county even in the face of a global pandemic and uncertain weather patterns.
"The County government under the leadership of Governor Fahim Twaha is committed to continue supporting farmers in food production to ensure food security for all. Distribution of relief animal feeds is still underway to cushion our farmers against the effects of prevailing drought." Said Hon.Abdulhakim Aboud
The six beneficiary groups include; Maarifa Self Help Group and Majengo Self Help Group both from Pate village,Tawakal Ilaahi Self Help Group from Siu, Bwajumwali Dhow Maker Self help group ,Tuungane Self Help Group and Tawakul Disable Self Help Group both from Kizingitini.
The ongoing multifaceted social protection program aims to enhance food security and rural poverty eradication through improved disposable income to smallholder agro-pastoral households.
In attendance was Lamu KCSAP coordinator Steven Mbuvi among other county staff.
-Ends-
For more information contact:
Lamu County Government Communications Office at info@lamu.go.ke