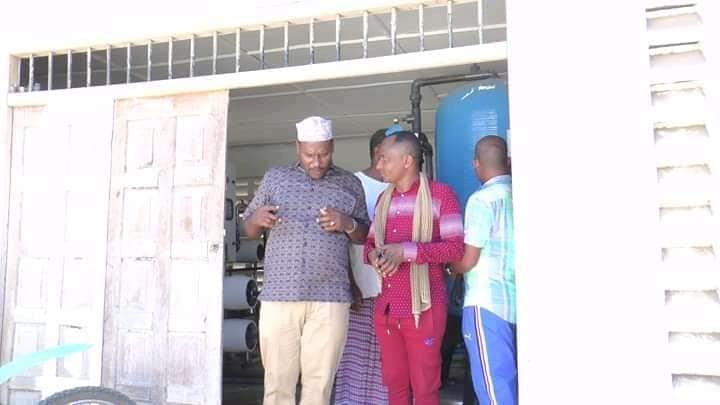 KIUNGA WATER PROJECT – ASSESSING THE PROGRESS
A delegation of county officials led by H.E Deputy Governor Abdulhakim Aboud Bwana this Saturday visited Kiunga water station to assess progress of the ongoing water project . The team was received by area Manager Mr. Shali Shamuni who took them through all the components of the ongoing project.
Lamu County Government has purchased and installed a new 5m³/Hr Desalination Plant, with capacity to purify 5,000 liters of water per hour .
This new infrastructure, a headliner of the Kiunga Water Project, complements the existing 2m³/Hr Desalination Plant, that purifies 2,000 liters of water every hour, assuring Kiunga residents of 7,000 litres of clean water discharged every hour.
The complete project, 80% done, will cost Sh.50 million and will further involve:
-The construction of a 15 Km water pipeline,
– Piping and connection of over 573 households,
-Fabrication and installation of 15m high steel elevated tank
– 50m³ Sumptank
– Installation of solar pumping and solar generator for the existing desalination plant
-Construction of ablution blocks
– Sanitation for Kiunga Primary School; 6 number 4 door VIP latrines
Kiunga village which has never had piped water services since independence is a key beneficiary of the Lamu County's 'Mai Mekoni' Water Project in both Lamu West and Lamu East .
_Ends_
For more information contact:
Lamu County Government Communications Office at info@lamu.go.ke