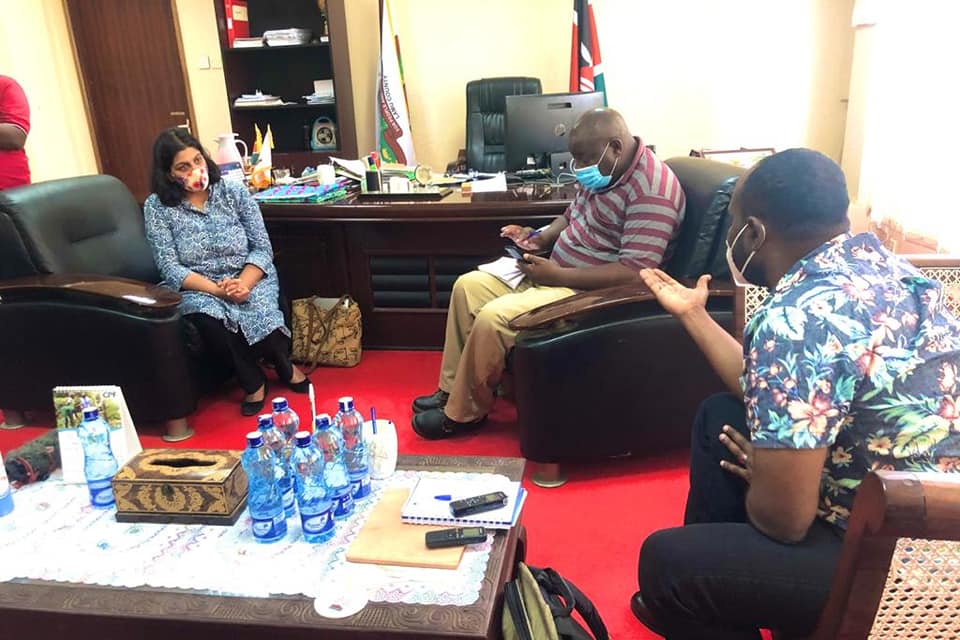 LAMU COTTON FARMERS TO EARN MORE
Good news for Lamu County cotton farmers as Thika Cloth Mills moves to buy cotton at a farm gate price of Ksh. 50 per kilo, starting this season.
Speaking when she paid a courtesy call to Lamu Deputy Governor H.E Abdulhakim Aboud at the County Headquarters in Mokowe; Thika Cloth Mills Managing Director, Ms. Tesla Dhodia, termed their visit to Lamu as a show of their commitment towards supporting cotton farming in Lamu County.
She further lauded the County Government for establishing sustainable cotton farming value chains and also leading the way by being the only county in Kenya to give its farmers free certified high yield cotton seeds.
"Last season all ginned cotton from Lamu was bought by Thika Cloth Mills through other ginners . Therefore want to establish a working partnership with the County Government so as to encourage and support sustainable production of cotton in Lamu" Said Ms. Dhodia
Deputy Governor and Agriculture CECM, H.E Abdulhakim Aboud welcomed the partnership adding that, Governor Fahim's administration has put measures to encourage more farmers to plant cotton by way of making it more lucrative to the farmers.
Among key components that the County has undertaken to support cotton farmers include giving them free certified high yield cotton seeds that are more resilient to pests and diseases, mechanization of farms at a subsidized price of Ksh. 1,000/acre and also helping in access to market.
"Last season Lamu sold 800 metric tonnes of cotton. Such a partnership with Thika Cloth Mills will help a great deal to achieve this year's target of selling over 3,000 metric tonnes, a big boost to our cotton and agricultural sector " said H.E Abdulhakim.
The DG further assured cotton farmers to expect better days ahead saying the prices are set to go even higher upon the operationalization of the cotton ginnery in the County which will cut the transportation costs of the produce.
Thika Cloth Mills have been buying ginned cotton from Makueni, Kitui, Meru and Western cotton gin companies and their direct partnership with Lamu farmers guarantees a stable market for their produce.
In attendance was the Deputy Director Marketing- AFA, Mr. Fanuel Lubanga, Lake Kenyatta Cooperative Chairman Mr. Julius Macharia among other cotton farming stake holders.
-Ends-
For more information contact;
Department of Communication,Lamu County info@lamu.go.ke