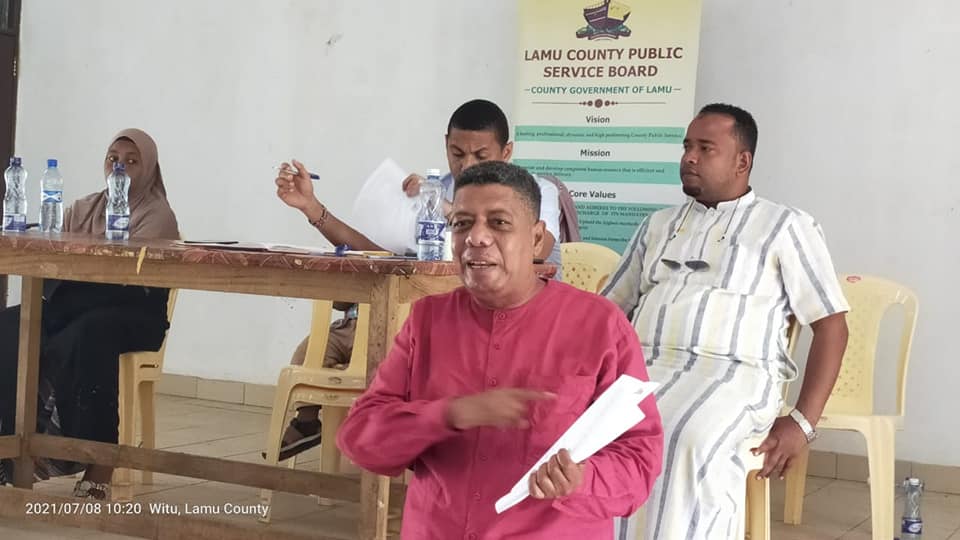 LAMU COUNTY HUMAN RESOURCE AUDIT OF PUBLIC SERVICE IN WITU WARD
The Lamu Public Service Board(LPSB) Chairman Mr. Abdalla Fadhil led his team in the final leg of the Lamu County 3rd Human Resource audit at Witu Ward .
All Public Service officials in Witu ward; both permanent and pensionable, those on contracts, casuals and interns were earlier today audited at the Witu Social hall .
Speaking when he flagged off the exercise at the Witu Social hall, Mr Fadhil noted that, the audit will help the County know the exact number of employees in the county government, their work stations, gender, those living with disabilities, those who need promotion among other issues. This will ensure the County Government is up to date, compliant and following best practice within employment law.
The exercise will be extended by a day to 9th July 2021 from 8:00 am to 4:30pm to accommodate those officials who missed as well as those who didn't return their questionnaire form with the required documents.
In the long term, this audit will serve as a critical tool to ensure legal compliance; identify processes and skills gaps, efficiencies in documentation and technology, training, communications and relevant employment practices necessary to improve service delivery.
-Ends-
Story by: Abdalla Simba and Adam Musa
For more information contact:
Lamu County Government Communications Office at info@lamu.go.ke