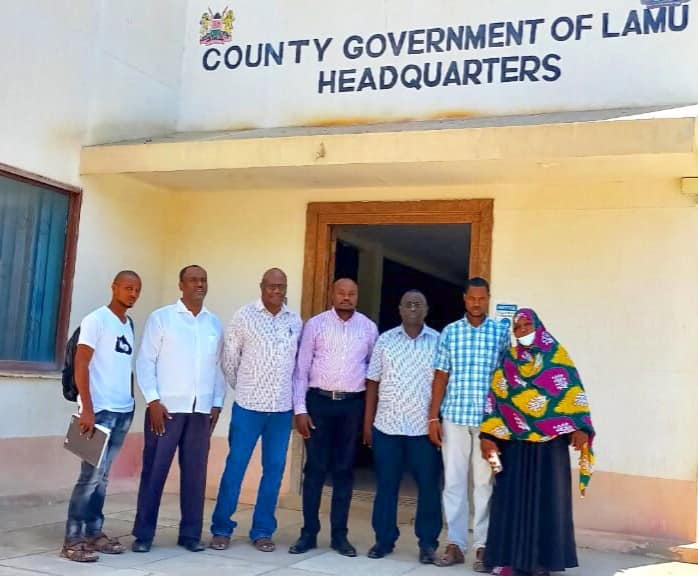 LAMU COUNTY REQUESTS RAPID OFFTAKE OF LIVESTOCK AS PLANS TO OPERATIONALIZE THE NAGELE LIVESTOCK MARKET PROCEED
Josephat Musembi, CECM Trade and Industrialization, has urged the State Department of Livestock to prioritize Lamu County in the ongoing livestock offtake program as drought persists.
Hon. Musembi expressed concern during a consultative meeting between the Kenya Livestock Marketing Council and the Lamu County Government, that the October-December weather forecast for short rains projects below average rainfall for the eastern and northern counties, a situation that could result in massive livestock losses.
"Lamu has always been the drought fall back area, we have an influx of thousands of livestock from neighbouring counties putting more pressure to already diminishing water and pasture resources and increasing risk of livestock losses. All indications are that the drought is imminent in the coming weeks. There is need to buy the livestock from pastoralists as soon as possible before they are lost to the looming drought" Said Hon Musembi
Hon Musembi proposed the manufacturing of animal feeds in Lamu for posterity, citing the availability of raw materials as well as skilled and unskilled labor.
"Lamu county should be regarded a center for animal feeds because of its extensive infrastructural development, such as the Lamu port, which connects to the global market, this will in future ensure availability of feeds despite climate change and uncertain weather patterns" Musembi noted.
The National Livestock Off-take Program was officially launched in Marsabit County on October 12, 2021, by the State Department of Livestock Principal Secretary (PS), Harry Kimutai, and will be replicated in nine (9) other counties, including Mandera, Wajir, Kilifi, and Samburu, Turkana, Isiolo, Garissa, Lamu, and Kitui.
CECM PSMA, Hon Abdu Godana, lauded the National Drought Management Authority and the Food and Agriculture Organization for collaborating with the Lamu county government to provide water and relief animal feeds as a mitigation effort to cushion residents aganist drought effects.
Mr Abdikadir Mohammed, CEO of the Kenya Livestock Marketing Council, has pledged his full support to Lamu County in matters relating to livestock marketing to national markets, infrastructure improvements to support livestock markets, and policy support to enable Lamu County to access a good market for its livestock.
The County Government, on its part, will continue to fully support livestock sector, particularly through continuous drought relief measures such as providing relief animal feeds, water, and livestock vaccination campaigns. Food distribution, water tracking, and operationalization of the Nagele market is also well underway.
Mr. Juma Bernad, Lamu County KLMC Cordinator, and Zeinab Gobu, KLMC Board of Directors, accompanied CEO KLMC.
Dr. Gichohi, the County Chief Officer for Food Security, Mr. Abdalla Ahmed, the Asst. Director for Trade, and Mr. Abarufa, the County Administrator, were also present.
-Ends-
Story by : Gabriel Mwaura
For more information contact;
Lamu County Communications Office at: info@lamu.go.ke