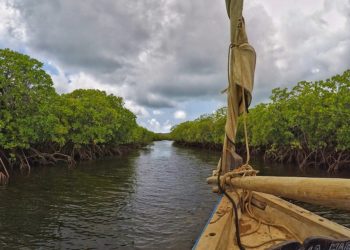 Lamu archipelago is rich of valuable natural resources, to which they give it an attracting and amazing beauty. There are four islands laid in the Indian Ocean in the northern coast of Kenya i.e. Lamu, Pate, Manda, and Kiwayu. The islands are surrounded by an evergreen forest, mangrove forest which covers almost 67% of the mangrove forest in Kenya.
The salt-tolerant trees provide a shoreline beautification with an amazing structure to enjoy viewing. The views can be experienced when sailing along the narrow roots to the eastern part of Lamu archipelago. The canopies nest different types of beautiful birds and the deep, wide-spread roots with coral reefs offer homes and hiding places for fish species like crabs. Mostly fishermen depend on the mangrove for fishing since they are fish breeding grounds. Mangrove in Lamu is a source of income where residents depend on.
Unlike other trees, mangroves are pest-free to which they are used in the construction of the traditional boats in Lamu, where water is the main source of transport, boats made of the mangrove trees are used in ferrying peoples and cargoes around the archipelago.
Most buildings in Lamu are in the traditional form since it's a heritage site. The ceilings of the buildings are made of the mangrove trees.