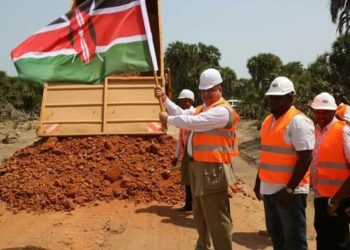 Launching Of The 9 KM Hindi-Magogoni Road
Yesterday,11/01/2018, H.E. Governor Fahim Yasin Twaha, officially launched the 9km Hindi-Magogoni road. The project is funded by Fuel Levy funds through the County Government of Lamu. The project is to construct and do maintenance works to all rural road of Lamu County.
During the occasion that was attended by National and County Government officials, Governor Fahim said that Lamu County will no longer face the crisis of water shortage, since there are investors who re willing to install Distillation Plant to recycle salt water. And also pipes Will be connected at Tana River and supply water to Lamu. He also promised Hindi residents Land surveying will be done and each will have his title deed in hand.
Since Lamu County is developing with great projects like the LAPSSET, job opportunities will be available where Governor urged Youths to make use of the polytechnic in acquiring skill so that to benefit from the projects.