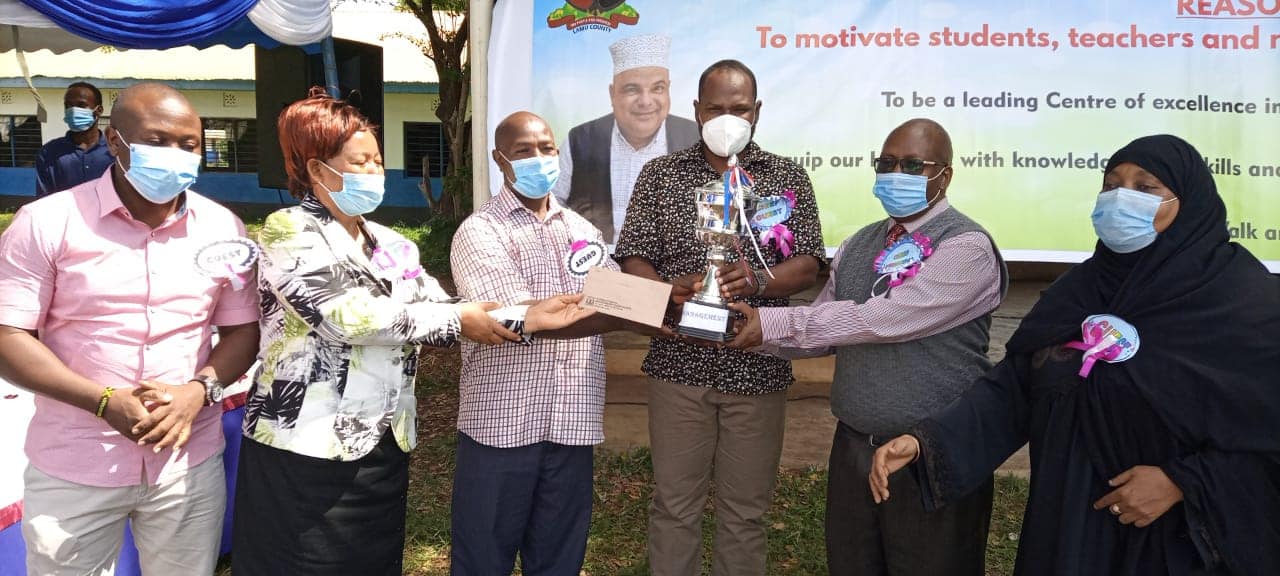 Mpeketoni Boys High School prize giving day
Deputy Governor H.E Abdulhakim Mbwana today presided over Mpeketoni Boys High School prize giving day. The ceremony seeks to recognize and reward outstanding students in the year 2020 .
Over 55 students who qualified for university entry with C+ and above in the Kenya Certificate of Secondary Education (KCSE) in 2020 were recognized with those who managed B- and above receiving awards.
Teachers with leading subjects in KCSE 2020 were also recognized and awarded.
Mpeketoni Boys High School ranked second in the county (2020 KCSE), registering a mean-score of 5.7 from 2019's 5.2 , an improvement index of 0.4 points.
Outstanding teachers and students received a wide range of prizes including smart phones, cash prizes, trophies ,Suitcases among other goodies.
Speaking during the ceremony, the school Principal, Mr . Severini Tole lauded the Lamu County Government Scholarship and Bursary program saying it has helped a great deal reduce absenteeism due to lack of fees. A move that Mr. Tole says has kept the students motivated helping to improve in their overall performance in KCSE .
H.E Abdulhakim Bwana reiterated Lamu County Government's commitment to ensure access to education for all, saying that the County Government will continue giving scholarships to top performers and bursaries to all students across the county. He urged the students to take full advantage of the program and focus on improving their performance.
In attendance were Education CECM Education, Technology, Youth affairs, Gender and Social Services, Paul Thairu and CECM Trade,Tourism and Industrialization, Hon. Josphat Musembi, Munistry of Education and TSC representatives, parents/guardians.
-Ends-
For more information contact:
Lamu County Government Communications Office at info@lamu.go.ke