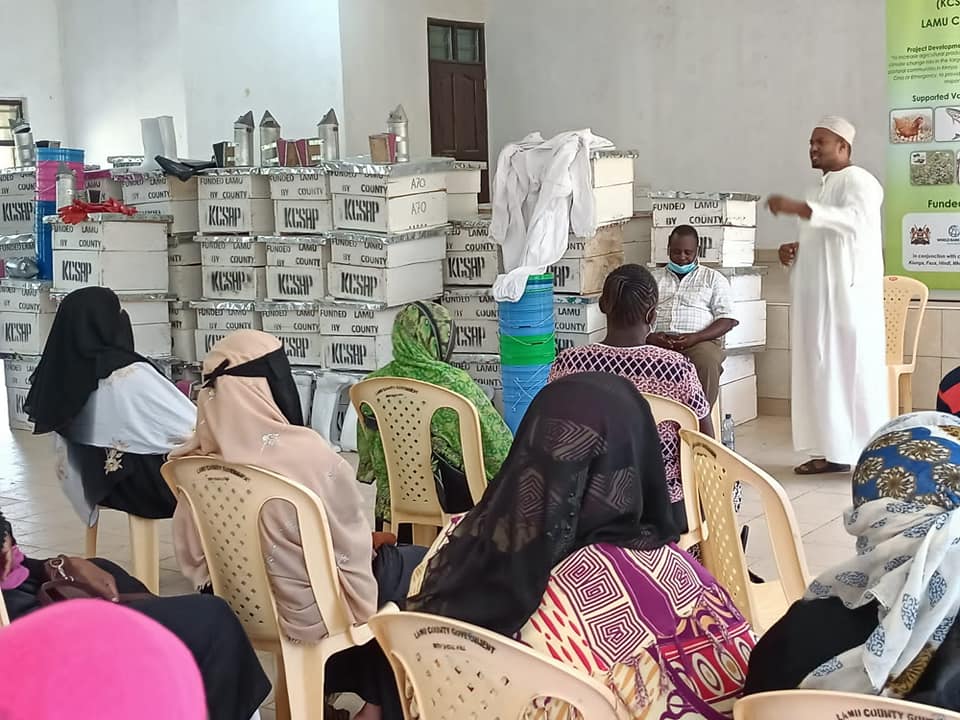 WITU FARMERS RECEIVE AN ASSORTMENT OF BEE KEEPING SUPPLIES.
Six small holder farmers' groups in Witu ward have today received an assortment of bee keeping equipment including; 151 beehives, 91 Langstroth, 60 Kenya top bear hives ,18 honey harvesting kits, 20 chainlinks, bee-proof overalls, gumboots, gloves, smoker, honey buckets among others tools under the Kenya Climate Smart Agriculture Project (KCSAP), in collaboration with Lamu County Government.
Addressing the Group members at Witu social hall, Lamu County youth fund Chairman Bwanamkuu Fumo Bwanamkuu encouraged the group members to co-operate and seek assistance from County technical field officers on bee keeping.
Mr. Fumo who represented Governor Fahim Twaha asked group members to embrace unity and take advantage of the equipment as an alternative source of income in the face of the current global pandemic and unpredictable weather patterns.
The beneficiary groups include;
-Paradiso
-Witu Youth Organization
-Tawfiq Self Help Group
-Songa Mbele Self Help Group
-Chalaluma Woljareen
-Moa acommunity Organization
Also in attendance was Lamu KCSAP coordinator Steven Mbuvi among other county staff and community elders .
Story by ; Abdalla Simba and Adam Musa.
For more information contact: Lamu County Government Communications Office at info@lamu.go.ke