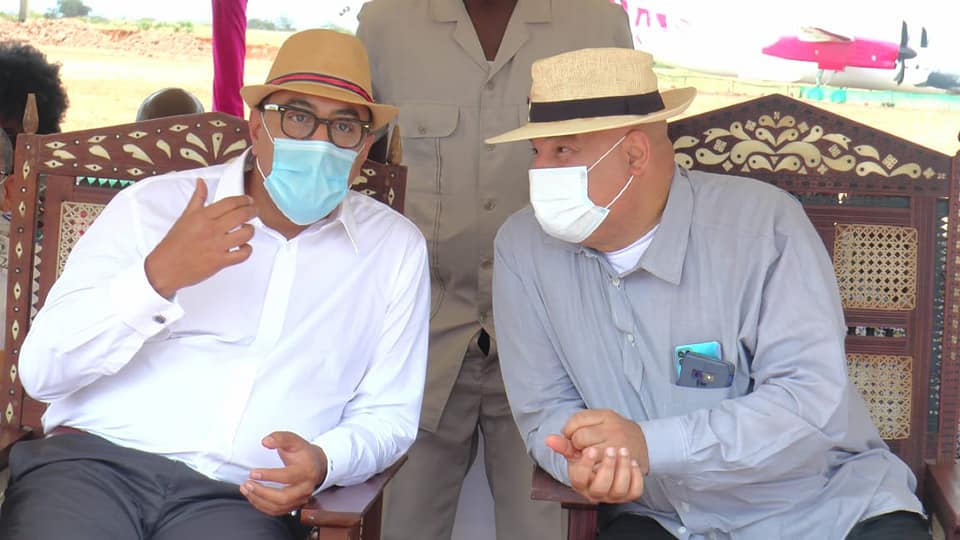 CS BALALA COMMITS TO HELP LAMU REVIVE IT'S TOURISM SECTOR
Cabinet Secretary, Ministry of Tourism and Wildlife Hon. Najib Balala (EGH) has committed to fully support the recovery and growth of the Lamu Tourism industry in the face of the global pandemic.
Speaking at the Manda airport during a ceremony to commemorate the return of Jambojet direct flights to Lamu, Hon. Balala, promised to initiate training for Lamu youths on different hospitality courses as well as special programs for hoteliers at the Kenya Utalii College . This followed an appeal by Governor Fahim Twaha seeking to partner with Utalii College to improve skills of local youths and hoteliers in the hospitality sector to help give the county a competitive edge as a world class tourist destination .
Hon Balala termed Lamu as an important tourist destination in Kenya, not only for local, but also international tourism.
"Lamu is a UNESCO World Heritage Site, a paradise with some of Kenya's best marine ecosystems, terrestrial wildlife and scenic beaches. The relaunching of Jambojet flights back to Lamu is a show of confidence that Lamu is a safe tourist destination and has the capacity to host both local and international tourists, no need for travel advisories"Said Hon. Balala
Governor Fahim Twaha welcomed the return of the Jambojet direct flights to Lamu saying that it does not only signify Jambojet's homecoming, but also the start of a recovery of the economy following the pandemic. He called on more development partners to invest in Lamu
" Indeed, our economy will benefit from the reintroduction of Jambo Jet's operations to Lamu. The government has remained vigilant and proactive, investing heavily on security to ensure everyone's safety . We also want the private sector to feel free to operate in Lamu. It's part of the county's progressive business reforms aimed at attracting investment. We're also interested in hearing about anything we can do to make your operations run more smoothly " Said Governor Fahim
Governor Fahim encouraged foreign and local travellers seeking a tri-play of ocean, wild, and cultural tourism to take advantage of the ease of travel to visit Lamu saying it has the best of both worlds
"We have some of Kenya's best beach hotel experiences, and it's a well-kept secret. Lamu also contains some of the largest elephant herds, lions, and other wildlife in Kenya. As a result, we are working to establish a National Reserve in Dodori and Kiunga in partnership with the national government and Kenya Wildlife Service" added Governor Fahim
Ministry of Tourism and Wildlife has partnered with Jambo jet through Magical Kenya to launch and promote destinations for both local and international tourism.
In attendance was Hon. Safina Kwekwe (CBS)PS, Ministry of Tourism and Wildlife, Brig. (Rtd) John Waweru, Director-General, Kenya Wildlife Service, Dr Betty Radier, Chief Executive Officer, Kenya Tourism Board; Hon. Solomon Kitungu (CBS)PS, Ministry of Transport, Infrastructure, Housing & Urban Development; Mr Irungu Macharia, Lamu County Commissioner; Mr Vincent Rague, Chairman, Jambojet Board of Directors; Mr Alex Gitari, CEO, Jambojet and senior County officials led by County executive Committee Members .
Ends-
Story by: Governor's Press Service
For more information contact:
Lamu County Communications Office at; info@lamu.go.ke