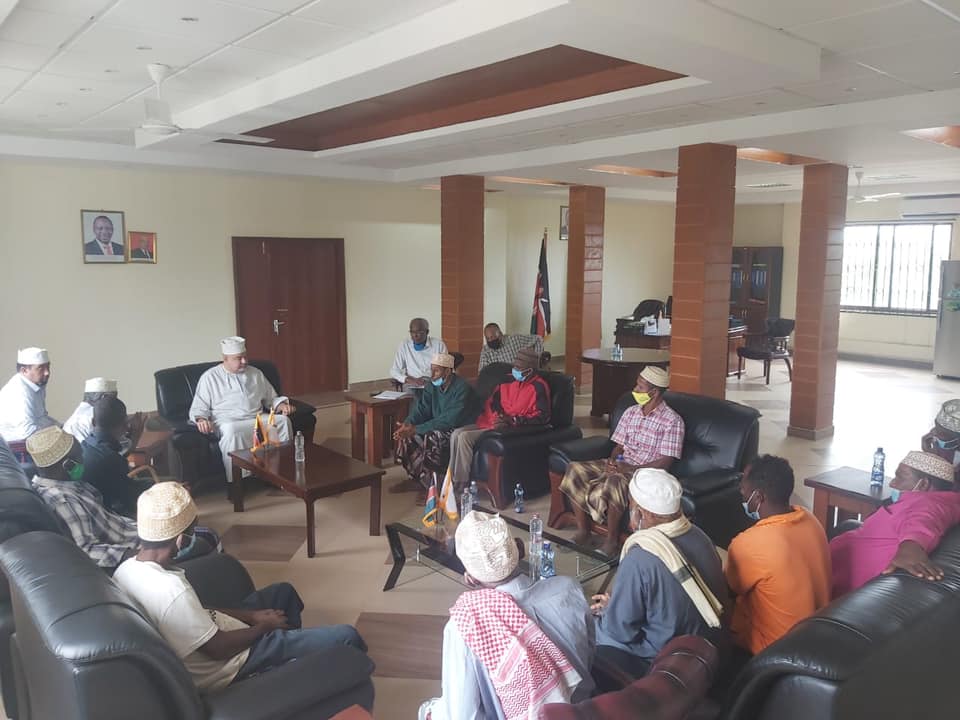 KIUNGA LEADERS THROW WEIGHT BEHIND DEVELOPMENT.
Kiunga Ward elders and community leaders today backed Governor Fahim Twaha's administration.
They have outlined the impact of development initiatives in Kiunga in the areas of health, water, education, agriculture, and blue economy as being socially and economically transformative for their community.
The announcement was made during a courtesy call to Governor Fahim Twaha at the Mokowe Lamu County Headquarters Office, led by Kiunga Ward's MCA Hon. Abdallah Babadi.
Kiunga Ward has benefited from County projects including;
1.Groundbreaking "Mai Mekoni" water project which entail construction of a 15 Km water pipeline, piping and connection of over 573 households, fabrication and installation of 15m high steel elevated tank,50m³ Sumptank,Installation of solar pumping and solar generator for the existing desalination plant,Construction of ablution blocks and Sanitation for Kiunga Primary School
2. Empowerment of youths through education by way of bursaries and scholarships
3. Issuance of fishing gears and outboard engines to the fishermen in Kiunga
4. NHIF cover for Kiunga households
5. Provision of ECDE equipment, learning and teaching material
6. Provision of certified maize seeds, cow peas and green grams to Kiunga small holder farmers
7. Planning and surveying and regularizing of Vipingoni settlement scheme
8. Construction of fisherman landing site( Rubu Mwambore campsite)
9. Construction of Kiwayu social hall and Ndau sociall hall phase two
10. Livestock health improvement programme for pastoralists in Kiunga
11. Kenya climate smart agriculture project among a host of other infrastructure projects.
Governor Twaha credited his administration's social transformation approach with laying the groundwork for enhancing the Lamu population's living standards, empowerment, wealth, and job creation. He pledged to continue his social transformation programs in Kiunga Ward and the larger Lamu County.
-Ends-
Story by: Athman Omar
For more information contact:
Lamu County Government Communications Office at info@lamu.go.ke