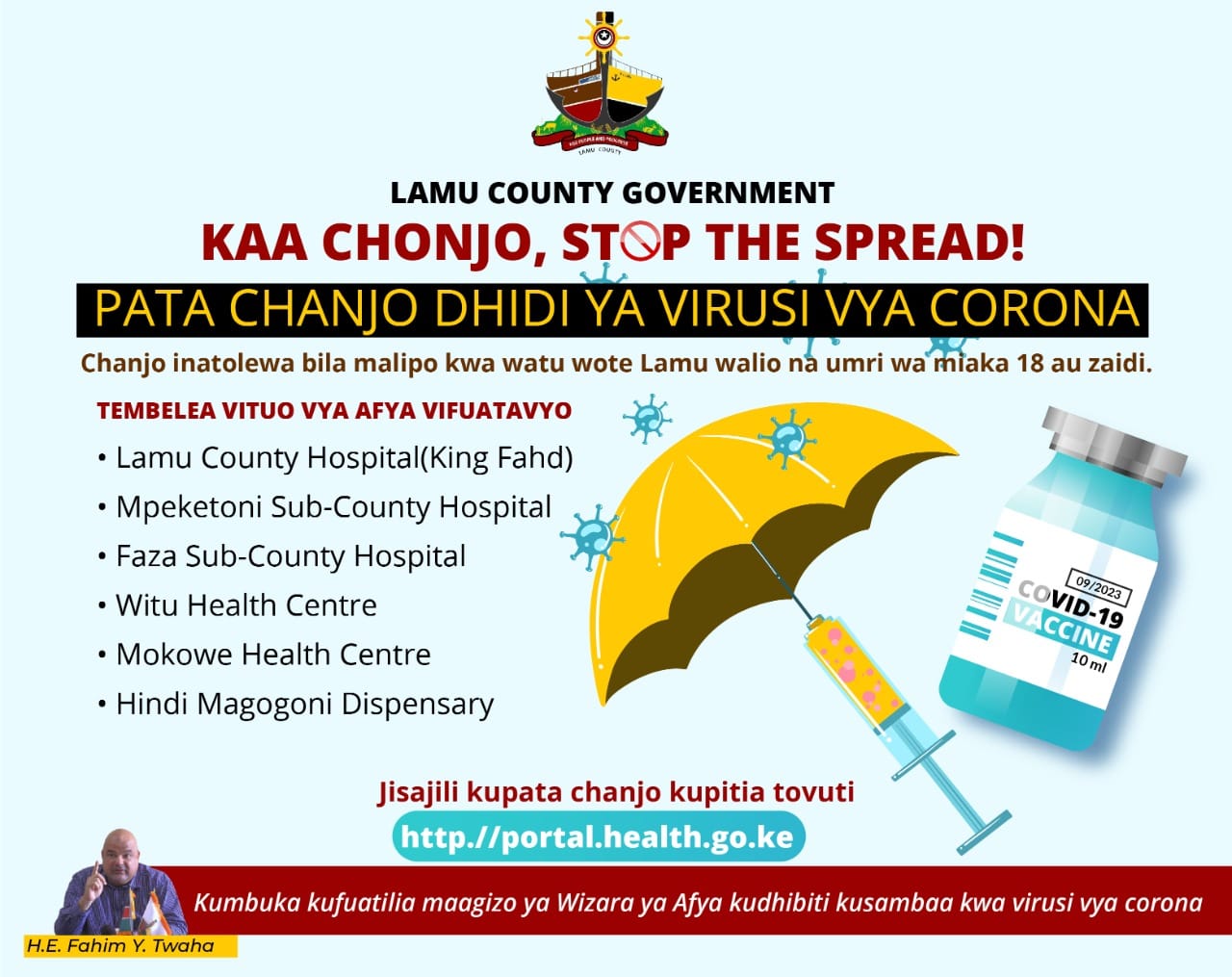 LAMU COUNTY RESIDENTS URGED TO GO FOR COVID-19 JAB
The County Government of Lamu through the department of Health Services is calling on residents to take up vaccination as a key mitigation measure against the Covid-19 pandemic.
Speaking at her office at the County Headquarters, CECM Health, Dr Anne Gathoni underlined that, the vaccine provides an extra layer of protection encouraging more residents to get the jab .
"The vaccine is being administered free of charge to everyone who is 18 years and above . Please note that, full protection is only attained after one receives the recommended number of doses, that is two doses of the vaccine. Therefore, it is important that we all adhere to the schedule" said Dr Gathoni.
The vaccination is offered on Tuesday and Thursday. So far, over 3200 residents have received at least one dose.
The vaccination centres in Lamu County include;
-Lamu County Hospital(King Fahd)
– Mpeketoni Sub-County Hospital
-Faza Sub-County Hospital
-Witu Health Centre
-Mokowe Health Centre
– Hindi Magogoni Dispensary.
To make the process faster, those who can, are advised to pre-register on the vaccination portal; http//portal.health.go.ke
On August 23rd, the county initiated public education campaigns on fundamental COVID-19 protocols through the Department of Health increasing community engagement and participatory approaches to help control spread of the virus.
This was following an analysis of socio-behavioural data by the County department of health which indicated unprecedented need to elevate awareness, at a time when pandemic fatigue is increasing, people becoming more complacent, and risk perceptions lowering across the country.
-Ends-
Story by Lamu Governors Press
For more information contact: Lamu County Government Communications Office at info@lamu.go.ke