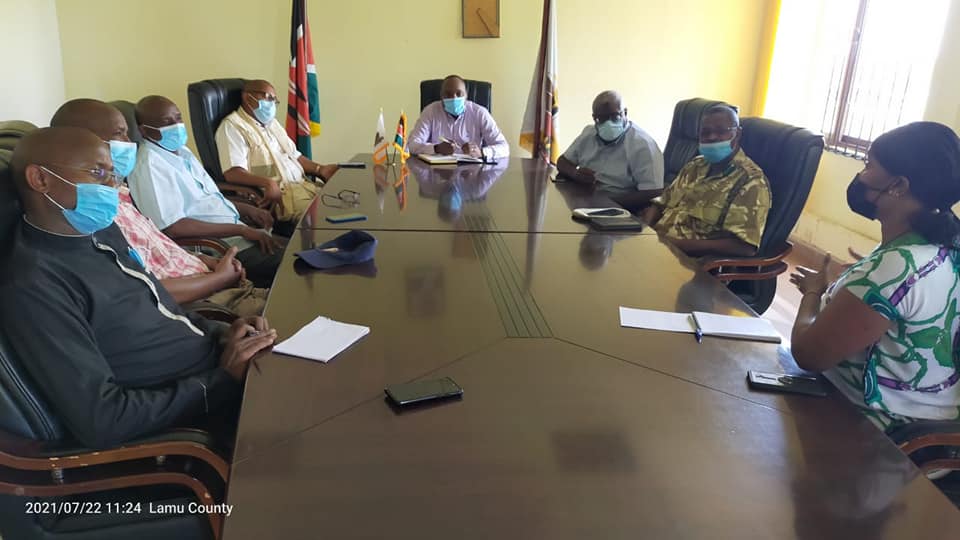 LAMU COUNTY TO HOST THE NEXT WILDLIFE DESTINATION IN KENYA
Kiunga-Boni-Dodori Reserve has been designated as Kenya's next wildlife destination, with infrastructural development plans in both Dodori and Kiunga Marine already underway including roads network,rangers Barack's,and equipments.
As part of the National Wildlife Census, a delegation of wildlife and tourism experts from the Ministry of Tourism and Wildlife, Kenya Wildlife Service (KWS), and Wildlife Research & Training Institute has begun a land and aquatic/Marine wildlife census in Lamu County.
According to officials, the ongoing nation-wide wildlife census is the first of its kind in Kenya, with the goal of aiding conservation efforts and identifying threats to Kenya's vast but threatened wildlife populations.
The land and marine wildlife census will expedite the operationalization of the Kiunga-Boni-Dodori Reserve with a feasibility study on the same expected to start soon.
The exercise will cover terrestrial area of 23,000km² , including the entire Lamu, parts of lower Garissa, Ijara, and Tanariver, and 3000km² marine from Vanga to Kiunga.
Dr. Mohamed Omar, Principal Scientist at the Coast Conservation Area, explained that preparations are in full swing.
"Lamu County has already built a command center and will soon hire 100 new rangers and 20 managers to be trained in Manyani to help with security. In the near future, we will conduct a feasibility study on wildlife conservation in Lamu, "he stated.
Hon. Josephat Musembi, CECM Trade and Tourism, on behalf of Governor Fahim Twaha, assured the team of the full support of the County Government of Lamu, describing the exercise as timely in terms of determining the exact numbers of all wildlife in Lamu, including endangered species, and their precise location, at a time when Lamu is facing major upcoming and ongoing projects.
"With so much going on in Lamu, including major projects like the LAPSSET's complementary infrastructure, such as the proposed oil pipeline and depot, industrial park, airport, rail and roads, a metropolis and resort city – not to mention the ever-present concerns of climate change, competition from shifting land-use patterns, and agriculture, this exercise could not have come at a better time, " said Hon. Musembi.
According to Dr. Shadrack Ngene, KWS Head of Species Conservation, the census would assist Lamu County in capitalizing on its wildlife-rich resources, which were ranked higher than renowned tourist locations such as the Maasai Mara in a 2015 wildlife census.
"Due to a lack of data about the status of its wildlife populations, Lamu county has not been able to reap the full benefits of its wildlife resources," said Dr. Ngene
Historically, the Greater Lamu Eco-region has been one of Africa's most wildlife-rich areas. It had a population of approximately 26,000 elephants in the 1970s, but by 2015, that number had dropped to just 55.
It is home to Lions, big herds of Buffalo and Reticulated Giraffe, Leopard, Hippo, Cheetah, Zebra, as well as a substantial breeding population of Coastal Topi, Waterbuck, Lesser Kudu, Desert Warthog, Spotted Hyenas, and a variety of primate species.
Other attendees included Assistant Director Security KWS, Mr. Doti Abdi, Senior Warden Lamu, Mr Mathias Mwavita, Honorary Warden Mr. Ali Shebwana, CEC Education Technology, Youth Affairs, Sports, Gender and Social Services, Hon. Paul Thairu, HCS, and others.
-Ends-
Picture Courtesy : Adam Musa
Wildlife Pictures courtesy of KWS and Lamu Wildlife Trust
For more information contact:
Lamu County Government Communications Office at info@lamu.go.ke