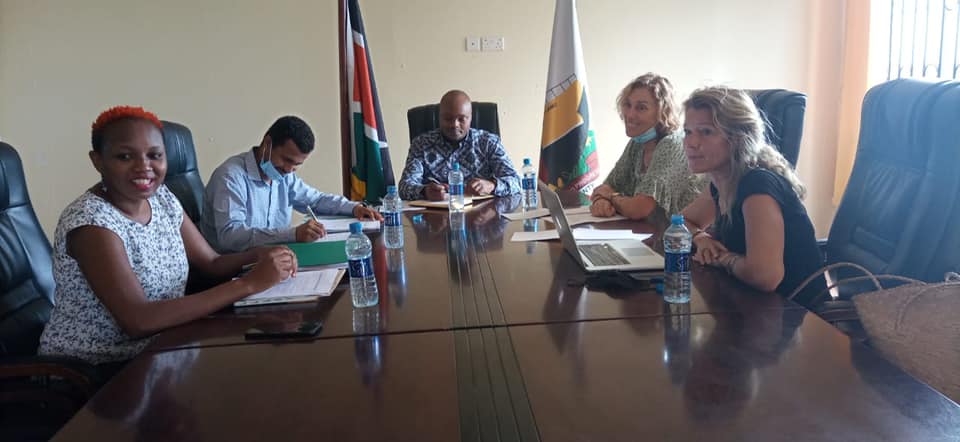 LAMU COUNTY TO PARTNER WITH STAKEHOLDERS TO STRENGTHEN TOURISM INDUSTRY
Lamu County is set to start the training of tour guides, beach and boat operators as part of taping tourism opportunities created by the county's greatest economic earner.
The County is also set to kick off tourism digital marketing as a way of putting Lamu on the global map as the preferred tourism destination site.
Speaking during a courtesy call by the newly elected Lamu Trade Association officials (LTA) to Lamu County CECM Trade, Tourism, Enterprise Development and Culture, Hon. Josphat Musembi, LTA expressed its willingness to continue partnering with Lamu towards creating a conducive environment for the tourism sector within the County.
Hon. Musembi noted the County Governor was keen in bringing on board all stake holders within the tourism sector in a bid to ensure Lamu retains its status of being an iconic tourism county. "Lamu island is a very important destination for local and international visitors and the Governor has tasked the Department of Tourism to position and take advantage of the newly opened Lamu port, massive infrastructure improvement across the county to position the Lamu archipelago as a destination of choice for investment and tourism" Said Hon. Musembi.
LTA newly elected Vice Chair Ms. Fridah said their Association is keen to work with the County Government to ensure they revive the tourism sector that was hardly hit by the Covid 19 pandemic. The Association is also keen to ensure Lamu old town keeps its historical stature despite the many challenges it has been facing from time to time. "Our umbrella is made up of members who have invested or involved in tourism directly or indirectly and our major focus has been to ensure we increase the numbers of visitors who visit Lamu by making their stay memorable. We are therefore privileged to work with Lamu County to ensure our input as stake holders is felt positively in putting Lamu on the map" added the hotelier and the owner Lamu Floating Bar.
CECM trade further tasked LTA to come up with a strategic plan on areas of possible collaborations with the county government since any engagement will have to be inclined on a clear legal framework. He further agreed to let LTA host this years Lamu cultural festivals once their proposal on how the event without violating covid 19 rules is approved.
Lamu Governor HE Fahim Twaha has already been identifying key critical areas that can stimulate the tourism sector in Lamu and already funds have been set to facilitate the training and employment of 100 rangers who will be employed at the Dondori national reserve once its operationalized. The department of Tourism is also setting up a Cultural Center as well as engaging boda boda operators to ensure they operate in a structured way that does not inconvenience tourists and locals.
The County is also completing the Lamu market this year which will allow all traders to be operating from a central point thus decongesting the streets. Further, Lamu Municipality has embarked on a through cleaning of the island by ensuring all garbage is collected in good time and the town is kept clean.
Other attendees were Public Service Management and former LTA official Mr. Atwaa, LTA Advisior (Yoga Festival) Mrs. Monika Fauth-Banana, and LTA Secretary Mrs. Susan.