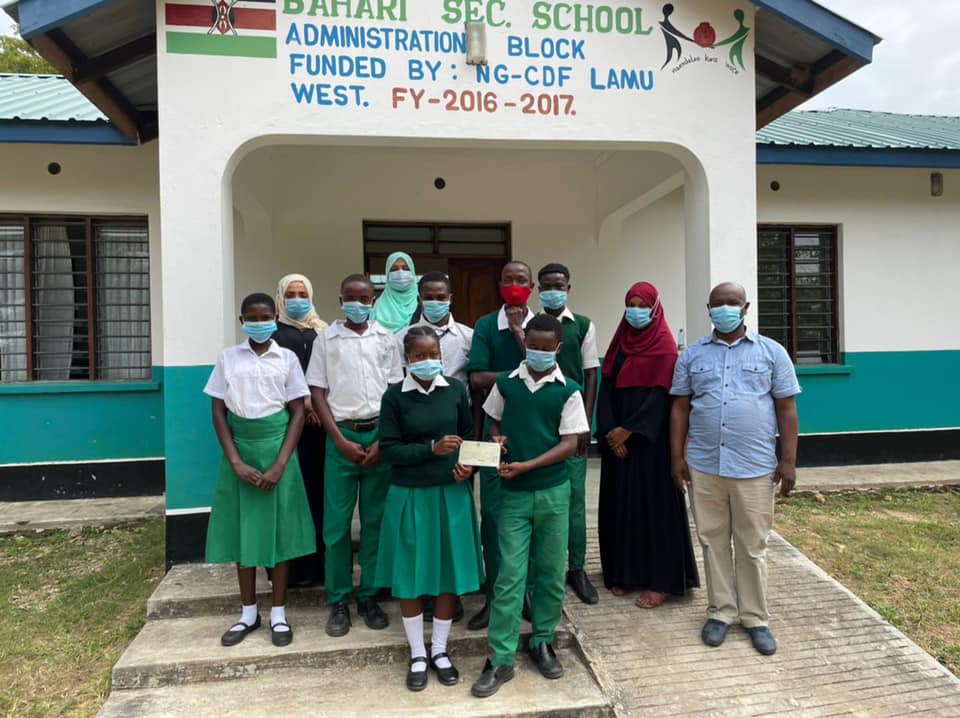 LAMU COUNTY TO SPEND Sh. 250 MILLION IN SCHOLARSHIPS AND BURSARIES 2020/2021
Lamu County Government is dedicated to ensure 100% transition from Primary to Secondary school through the full scholarship program for outstanding students and the Bursary program for all . Currently over 2,871students are reaping the benefits of the full scholarship program for the fiscal year of 2020/2021.
Earlier today the Lamu County Bursary board led by CECM Education Hon. Paul Thairu HSC and Board Chair Hon. Athman Badi issued scholarship cheques to three secondary schools within Bahari ward in the countywide scholarship issuance exercise.
Bahari Secondary School received Sh. 121,800, Sacred Heart received Sh. 1,620,000 while Hongwe Secondary School which had received its part of disbursement earlier received its balance of Sh. 375,000 scholarship cheque respectively.
Hon. Thairu who was representing Governor Fahim at Hongwe secondary school, congratulated outstanding students under the full sponsorship program encouraging them to work even harder to maintain quality grades all through their secondary education.
"As a county, we are glad that these scholarships have enabled many bright and needy students to access secondary school education devoid of fee challenges" Said Hon. Thairu.
He further noted Lamu Governor Fahim Twaha is also committed to ensure a smooth transition of form four leavers to colleges, universities and TVETs.
Speaking at Sacred Heart Secondary School, Bursary Board Chair Hon. Athman Badi assured students and parents that the board is committed to serve the public and ensure all deserving students are awarded scholarships and bursaries.
" Your hard work and determination earns you recognition and the full scholarship . On behalf of the board, I want to challenge you to continue working hard and together we can bring to fruition the goal to transform our county through Education as envisioned in Governor Fahim Twaha's agenda " Said Hon. Badi.
Hongwe Ward MCA Hon. James Komu(Janko) thanked Governor Fahim Twaha for increasing scholarship and bursary allocation from 176 million shillings last year to 250 million shillings this financial year. He further lauded the county for initiating the noble scholarship program saying Lamu has shifted the goal posts and set a great example to other counties on supporting Education for all.
Also in attendance was Bursary Board Secretary, CEO Mrs. Maliha Mohamed, Mzee Kariuki Wa Charity among others.
Ends-
Photo Credit: Patrick Ochieng.
Story by: Lamu Governors Press.
For more information contact Communications Office at;info@lamu.co.ke