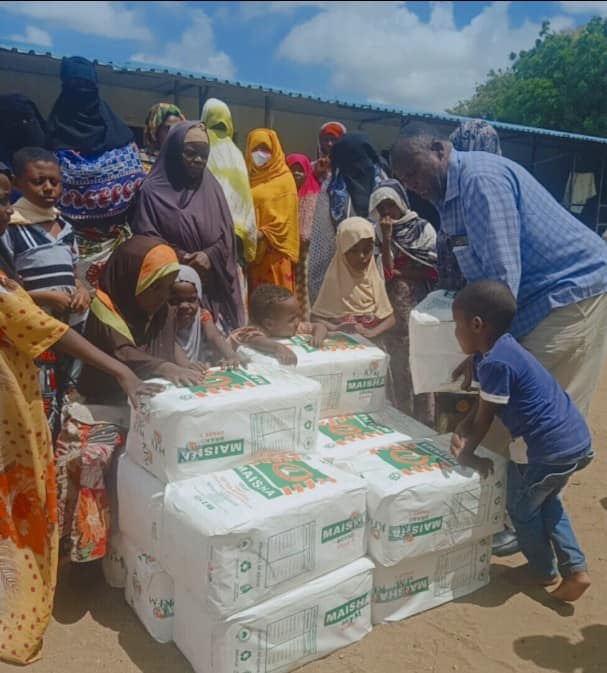 MUADHI CHILDREN'S HOME, MAPENYA AREA, MKUNUMBI WARD
19 households housing over 52 orphaned children at the MAUDHI CHILDREN'S HOME in Mapenya, today received relief food under the County's initiative to cushion residents against the effects of the prevailing drought in Mkunumbi ward.
The food will benefit the orphans and their caregivers. The County food drive was launched on 20th September in Moa Witu and targets to support over 32,000 households County wide.
Meanwhile, efforts to ensure a ' Food Secure Lamu' are well underway . The County Government is in the process of procuring certified seeds for distribution to all farmers as well as purchase of 10 new fully loaded tractors to spur mechanization of farms by opening up more land for farming and reducing dependence on manual labor.
With the new tractors the County Will be able to plough over 20,000 acres compared to the 8,000 acres ploughed yearly with the nine operational tractors .
Lamu Water and Sewerage Company's emergency water trucking program has also been distributing water to areas currently facing acute water shortage including Dide Waride, Pandanguo, Kiangwe, Mkunumbi, Bargoni, Miliminani, Ishakani, among others .
_Ends_
By Patrick Ochieng
For more information contact:
Lamu County Government Communications Office at info@lamu.go.ke