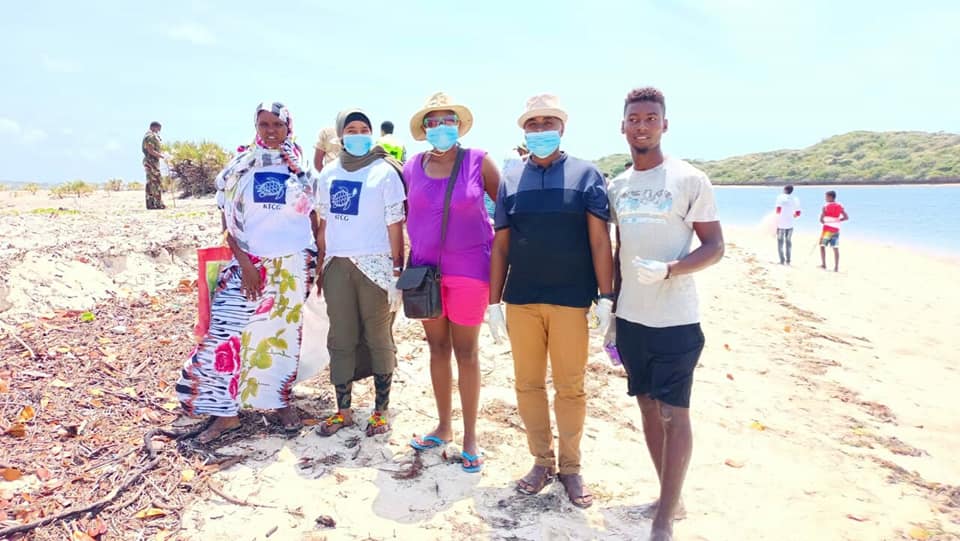 VOLUNTEERS CLEAN KIWAYU BEACH TO MARK INTERNATIONAL COASTAL CLEANUP DAY.
Tourism stakeholders, volunteers and influencers sponsored by the Lamu County Government, Jambojet, Kenya Tourism Board(KTB), Kenya Wildlife Service (KWS) and Lamu Tourism Association (LTA) marked the International Coastal Cleanup Day in Kiunga Marine National Reserve at Mkokoni.
The International Coastal Cleanup Day is traditionally held on the third Saturday of September every year and engages people to remove trash from beaches across the world and waterways.
2021 theme of International Coastal Clean-Up Day was : "Keep trash in the bin and not in the ocean".
Speaking during the cleanup exercise, Lamu Tourism Association Deputy Chair, Ms Fridah Njeri said awareness creation remains key to having and maintaining cleaner beaches .
"As a stake holder in tourism I am proud to be part of this global movement . I would like to encourage more people to join in and help keep the environment clean even beyond the international Coast cleanup day . We all have a big role to play to ensure that the environment in which we live is free from any form of pollution," said Ms Frida Njeri.
CECM Tourism and Trade Hon. Josephat Musembi underlined the importance of having a cleaner environment saying it requires concerted efforts from all stakeholders.
"Anyone of any age or ability should volunteer to take part in beach clean-up exercises which should be made routine, a clean environment will not only make our beaches more attractive to tourists but also sustainably support livelihoods through fisheries" he said. Hon. Musembi was speaking on the sidelines of a sensitization forum for County Assembly members on the County sponsored Tourism and conservation bills in anticipation for the operationalization of the Dodori and Kiunga Marine Reserves.
Coastal Cleanup Day was established 35 years ago by the Ocean Conservancy, an organization that works to increase public awareness about the accumulation and negative impacts of litter in oceans, on coastlines and on beaches.
Story by : Patrick Ochieng
For more information contact: Lamu County Government Communications Office at info@lamu.go.ke