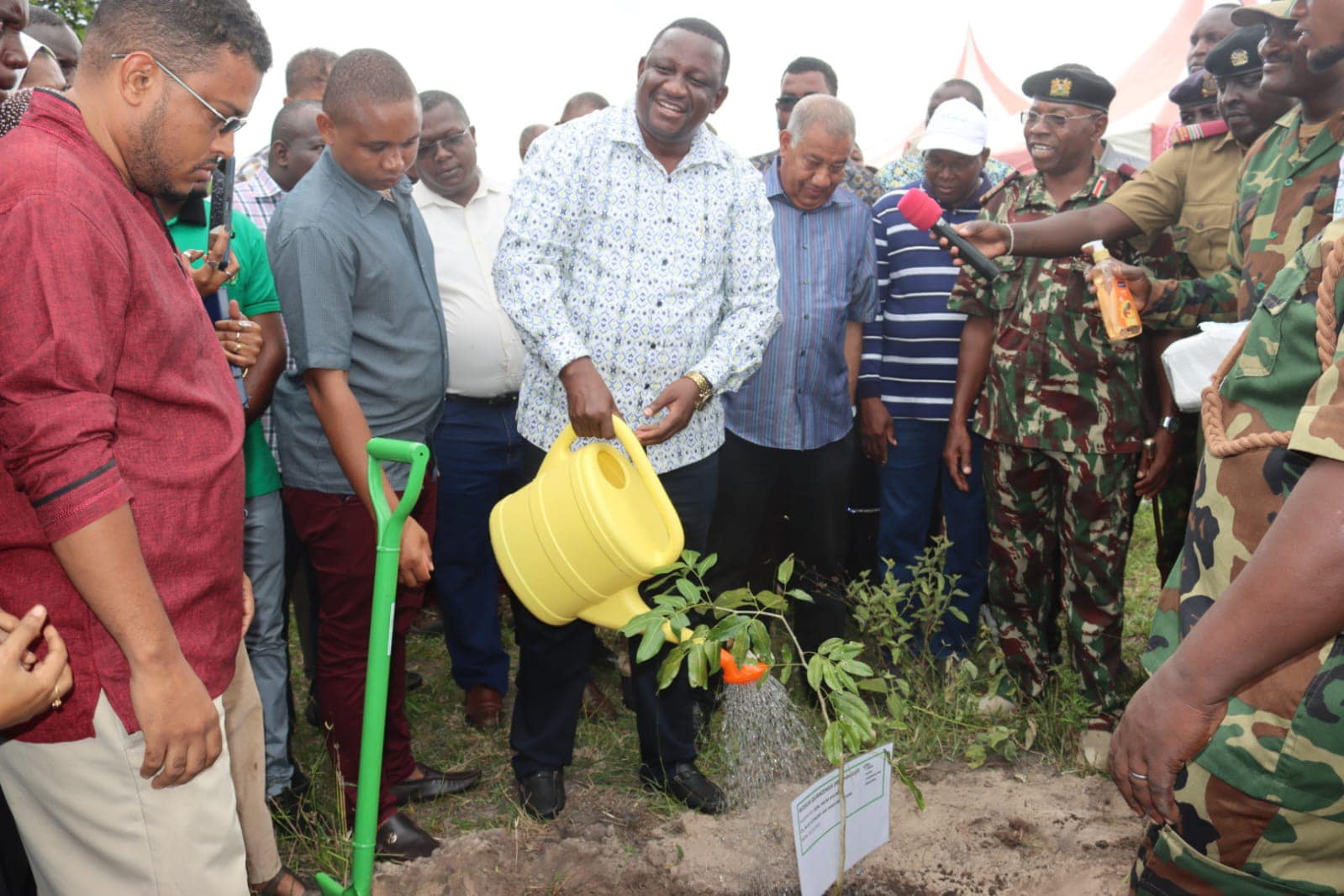 C.S MVURYA LAUNCHES LAMU COUNTY TREE PLANTING EXERCISE
Cabinet Secretary for Mining, Blue Economy and Maritime Affairs, Salim Mvurya has called on Kenyans to plant more trees as a way of mitigating the effects of climate change.
Speaking in Witu where 56,000 trees will be planted in line with the Presidential directive to plant 1.5 million trees a year and 15 million trees in 10 years, C.S Mvurya emphasized the trees being planted today will benefit future generations as they will stabilize the soil and protect the county's biodiversity.
The C.S emphasized on environmental conservation as a key pointer in providing a healthy environment, and called on the involvement of members of the community in environmental conservation.
"With Lamu enjoying a colossal forest cover and being ranked the third county with the biggest forest cover in Kenya, today's reforestation exercise will go a long way in mitigating the adverse effects of climate change like drought and floods in Lamu county" Stated C.S Mvurya and further urged residents to conserve the trees.
Lamu Governor H.E. Issa Timamy thanked the C.S for marking the noble day in Lamu and also urged members of the public to engage more in tree planting exercises, adding that such activities also serve to raise awareness and integrate conservation and environmental protection.
"Todays exercise on environmental conservation and the transformation focuses on the need to mitigate against climate change, with emphasis on trees and forests, which play an essential role in mitigating the impact of climate change" Governor Timamy said.
The A.N.C party leader also committed to Lamu residents that his administration would be giving farmers improved coconut and cashew-nut seedlings as part of his key pillar on empowerment of farmers and making Lamu food secure.
Towards opening up opportunities and making Lamu an economic hub, the Cabinet Secretary committed to work together with the Council of Governors Blue Economy Committee Chair, to ensure they set up a modern fish processing plant in Mokowe, operationalize all aspects LAPPSET adding that these are some of the critical economic stimulus programs for Lamu.
On his part Lamu Deputy Governor H.E. Raphael Munyua thanked the Cabinet Secretary and the Governor for launching the tree planting exercise Lamu chapter and noted that the tree planting initiative was to contribute to the conservation of the water towers and an effort to mitigate the adverse effects of climate change.
Also in attendance during the launch of the countywide tree planting program at Maisha Masha in Witu Ward were County Commissioner Mr. Irungu Macharia, Assistant County Commisoner, C.E.C.M's Witu O.C.S, officials from K.W.S, N.Y.S, KEFRI, World Bank, Dedan Kimathi Foundation among others.
-Ends-