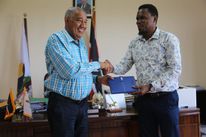 Kenya Maritime Authority (KMA) through Bandari College, will soon start offering maritime related courses in partnership with Lamu County Government at Lamu County Command Center Mokowe.
Speaking while hosting the K.M.A delegation,
Governor Timamy, who is also the Council of Governors' Blue Economy Chair, lauded the country's maritime regulator in its commitment into offering specialised training in Maritime Transport and Logistics (MTL)
"The establishment of a satellite college in Mokowe will ensure our youths from as far as Kiunga don't travel outside the county to pursue maritime courses. My administration will also facilitate K.M.A towards establishment of an administration block next to our Mokowe command center" Governor Timamy said.
The A.N.C party leader further noted that the initiative to offer maritime courses is in tandem with the National Government and the Council of Governors' vision to tap into the Blue Economy activities. The county will further support and facilitate fishermen towards training and achieving the pre requisite maritime certification.
Head of K.M.A delegation Chairman Mr. Khamis Mwaguya thanked Governor Timamy for his unrelenting effort towards ensuring youths have access to maritime training that will build a better maritime conscious nation and also foster in broadening their career opportunities.
Fisheries C.E.C.M Hon. Faiz Fankupi underscored that the courses will empower the youths who have been living below expectations due proper exposure to the maritime environment, lack of understanding of the maritime sector as well as limited funding of appropriate initiatives.
-Ends-
For more information contact:
Lamu County Government Communications Office at info@lamu.go.ke