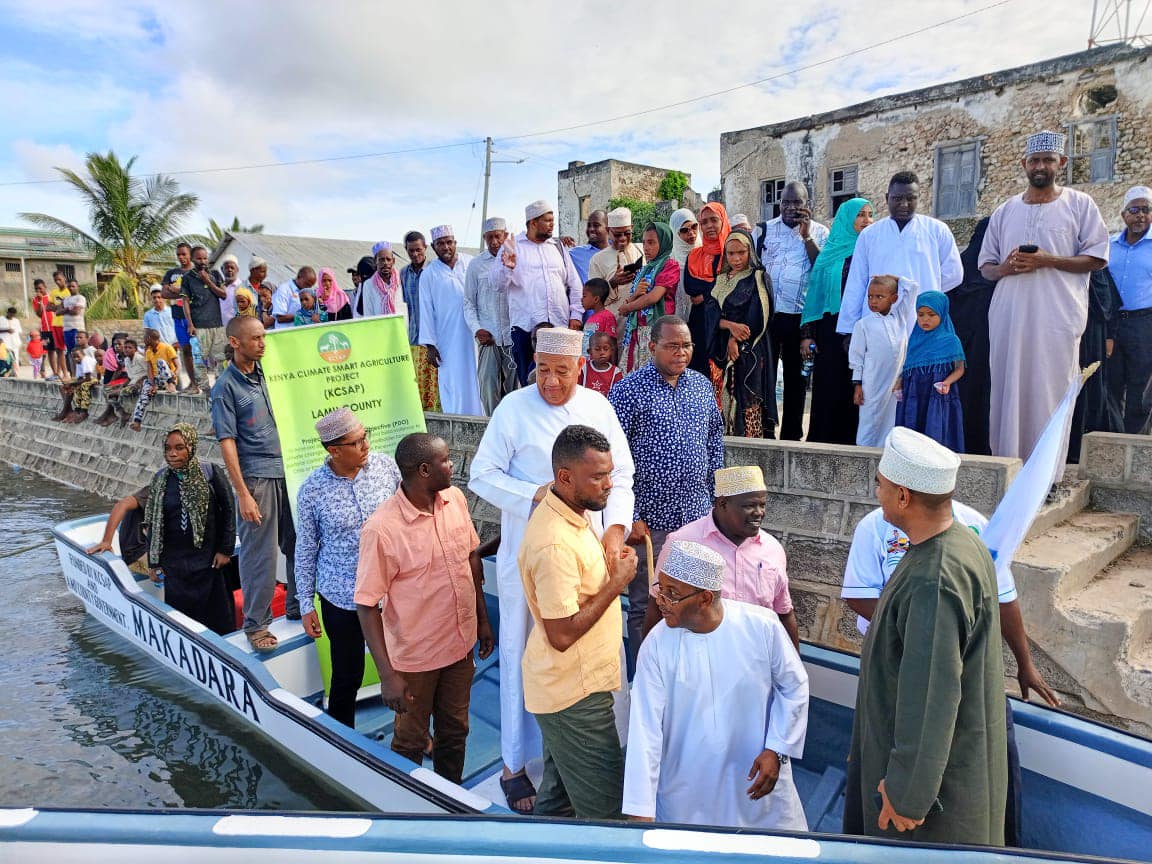 Lamu Governor H.E. Issa Timamy E.G.H, O.G.W has today issued micro investment materials to 115 households at Faza ward, in partnership with Kenya Climate Smart Agricultural Programme (KSCAP) amounting to five million shillings.
The grants which were issued to five groups will go a long way towards enhancing food production and combat climate related risks in the County.
Speaking during the presentation of the micro investment materials, Lamu Governor H.E. Issa Timamy asked the beneficiary community groups to utilize the micro investment materials towards enhancing their social economic activities.
"In line with the fisheries and agricultural agenda, Lamu County Government is committed to fulfilling it's KCSAP partnership mission for the benefit of its fishermen, smallholder farmers, and pastoral communities" Governor Timamy stated.
The grants were awarded to common interest groups, vulnerable and marginalized groups that were drawn from Shanga, Kizingitini, Mbwajumwali and Rasini.
1. Madyana Self Help Group- One outboard engine, and a fibre boat.
2. Makadara Women Group- One outboard engine and a fibre boat.
3. Mbwajumwali Dhow Makers- 1 motorcycle, deep freezers, fishing nets and rollers.
4. Rasini Environmental Organization- One outboard engine and a fibre boat.
5. Tuungane Youth Group- One outboard engine and a fibre boat.
Present were Lamu Deputy Governor H.E. Raphael Munyua, Agriculture CEC Member Hon. Jimmy Gichu, County Secretary Amb. Ali Abbas, Chief of Staff Mr. Abdulnasir Issa, KCSAP Project Coordinator Mr. Stephen Mbuvi among others.
-Ends-
For more information contact:
Lamu County Government Communications Office at communications@lamu.go.ke