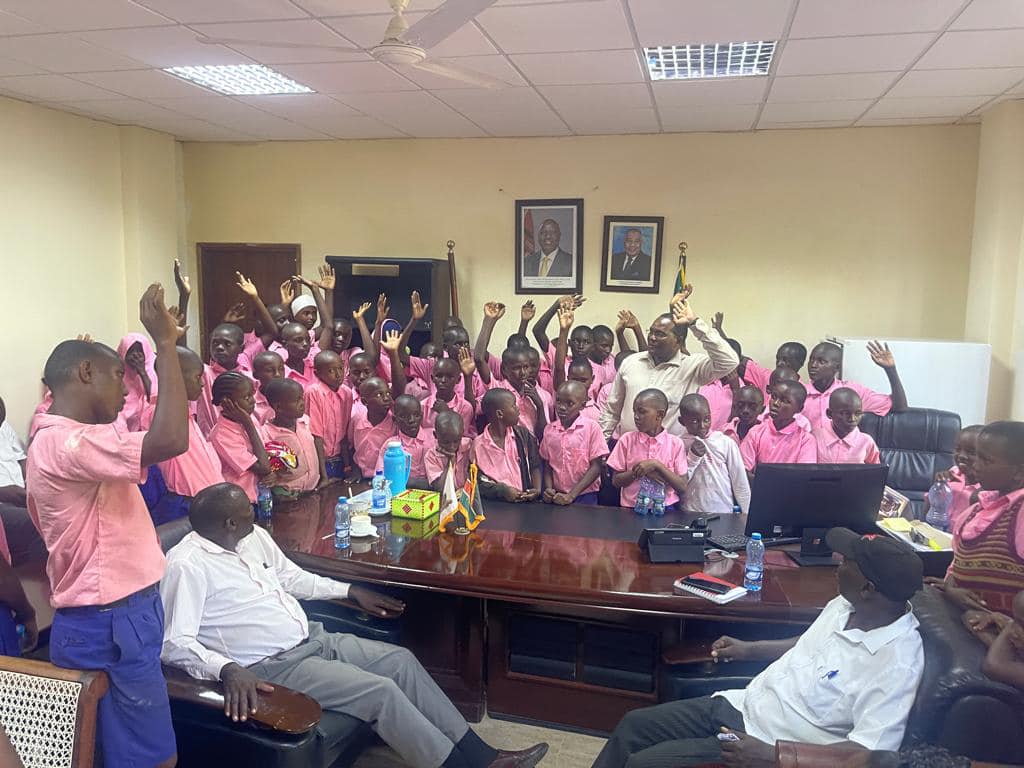 SINAMBIO PRIMARY SCHOOL PUPILS' EXCURSION TOUR TO LAMU COUNTY HEADQUARTERS
County Government of Lamu Deputy Governor H.E. Raphael Munyua has challenged primary school students to focus on their studies so that they can be enlisted under County Scholarship Programme.
Speaking to Sinambio Primary School pupils from from Hongwe Ward who had visited the County Headquater offices in Mokowe for excursion, the Deputy Governor underscored to the students that education was the only equalizer in the world which gives everyone equal opportunity to improve their livelihoods urging the students to work extra hard to achieve it.
"Being devoted to your school work, self-discipline and working diligently guarantees you success at the end of your schooling period" The Deputy Governor added.
Education CEC Member Hon. Owanga warned the students against engaging in vices that detracts one from studying hard urging the pupils to make correct choices when selecting friends adding that bad character corrupts good morals.
During the tour the students were taken round the Headquarters by Human Resource Director Mr. Paul Waluba and learned on devolution, relationship between national and County government, similarities between the two levels of government, composition of County executive among others.
Sinambio Board Chair Mr. Samwel Kimaru thanked the County Government under the stewardship of H.E. Governor Issa Timamy E.G.H, O.G.W for employing ECDE teachers and constructing two classrooms adding that they have greatly contributed towards improving the school infrastructure.
In attendance was CEC Member for Lands Tashrifa Bakari, CEC Member for Trade Hon. Amina Miraj, Trade Chief Officer Md. Joyce Murimi, Sinambio Head Teacher Mr. James Mugacia, Assistant Chief Ms. Mary Maitho, teachers among others.
-Ends-
For more information contact:
Lamu County Government Communications Office at communication@lamu.go.ke