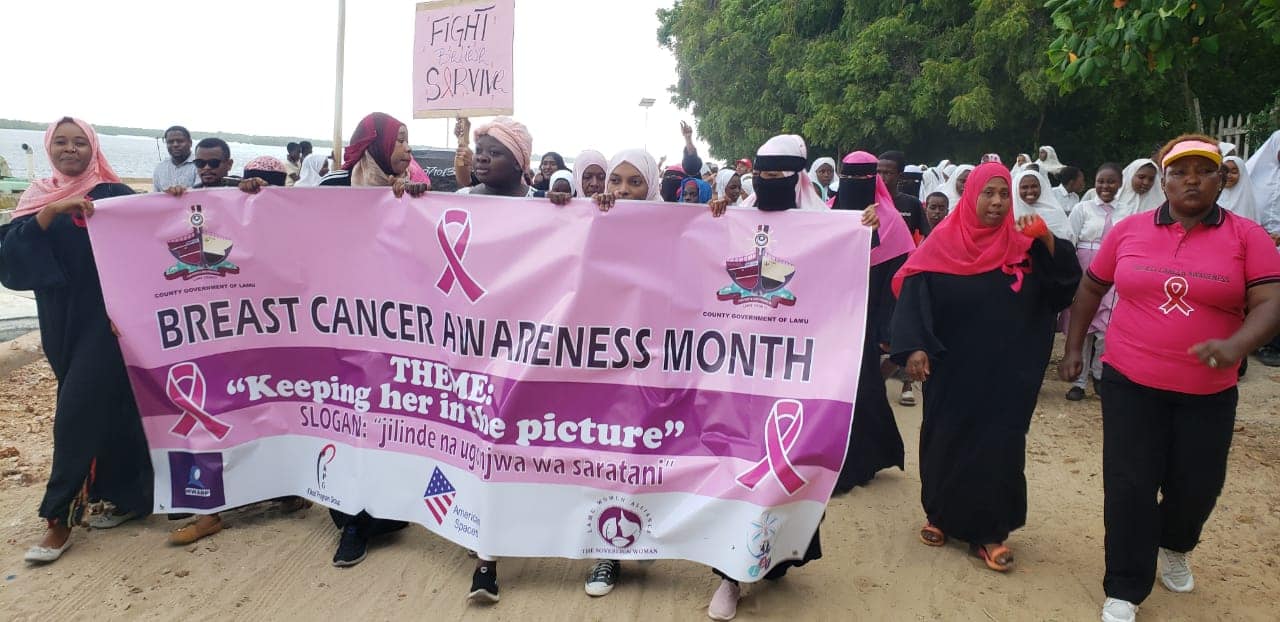 October is a National breast cancer awareness Month with a primary objective of Creating Awareness on Breast Cancer, promote early detection and support those affected by cancer.
County Department of Medical Services in collaboration with Pathcare Kenya together with private organizations and CBOs conducted a cancer awareness and screening program at Mkunguni Town Square today.
Lamu County managed to get 10 cancer patients after screening done last month, screened with different types of cancer, and breast cancer being among them.
The patients who were referred for further evaluation at Mombasa were all found to have stage 4 (end-stage) disease.
CECM health Dr. Mbarak Bahjaj said that Lamu County has in the 2024/25 ADP planned for establishment of a CANCER CENTRE at the King fahd Referral Hospital, which will be a great milestone and a huge relief to our patients.
He also over-emphasized to the people of Lamu to get screened without fear so that the cancer can be detected and treated at early stage.
The County Department of Health has so far vaccinated over 4000 girls with the HPV vaccine Countywide.
Dr. Mbarak further urged young girls and students to get the HPV vaccine and those who haven't completed their second
dose to visit Health facilities for the booster dose free of charge.
The event was coordinated by County Reproductive Health Coordinator, Dr Fatma Faruk, and Ms Ann Nkirote the County NCD coordinator, who led the procession from King fahd Referral Hospital matching to Mkunguni Town Square.
Also in attendance was the Chief officer Medical Services Dr. Tole, the Director Dr.Baasba, former MCA Madam Amina Kale, among other leaders & officials.