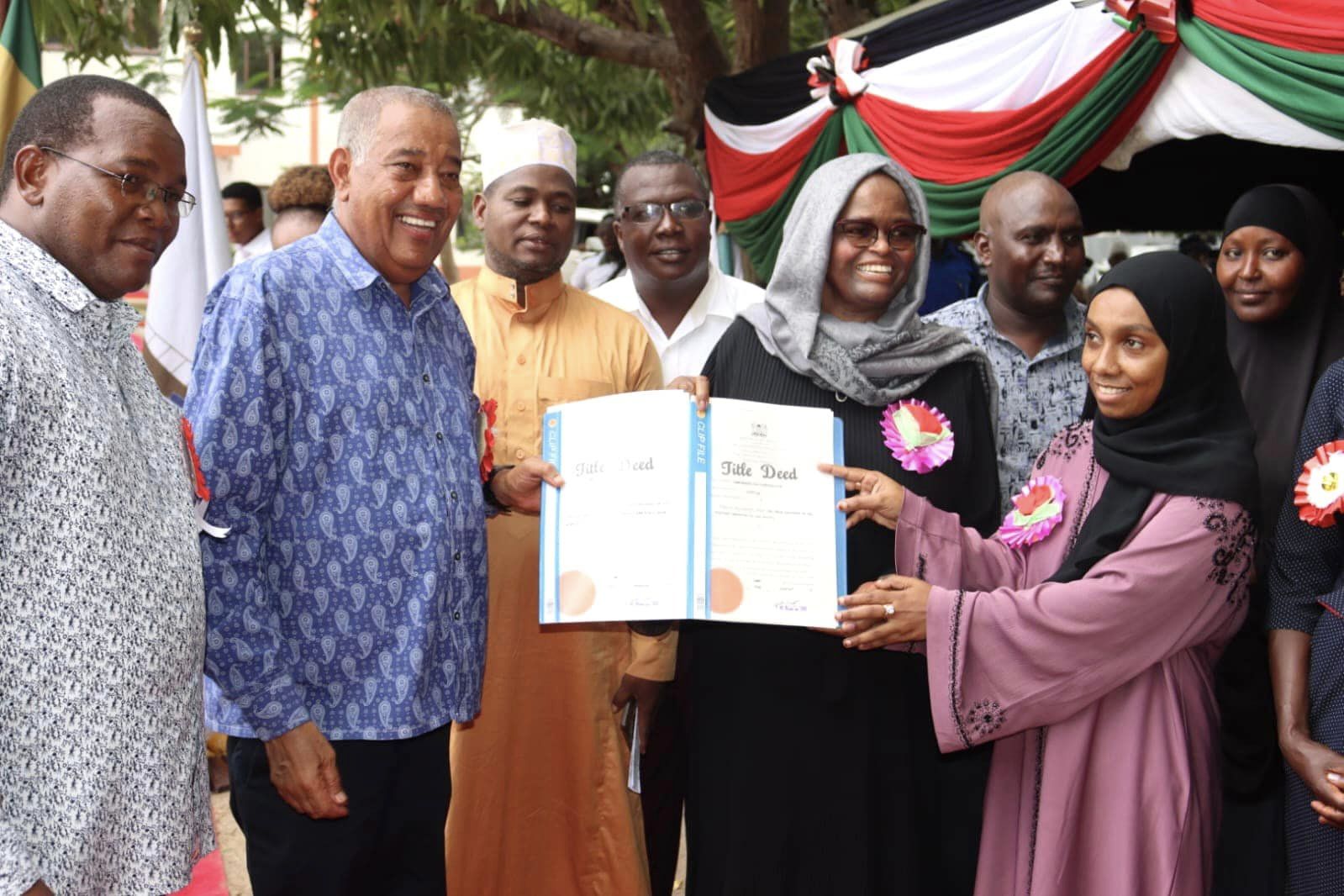 CHIEF JUSTICE KOOME RECEIVES TITLE DEEDS FROM GOVERNOR TIMAMY TO SET UP A HIGH COURT IN LAMU
Chief Justice Hon. Martha Koome has said the Judiciary will immediately commence the construction of a High Court and a Magistrates' court in Hindi ward, which will be a relief to the locals who have continued to rely on the High Court sittings in Tana River and Kilifi counties.
Speaking while receiving two title deeds from the County Government of Lamu, the C.J said the Judiciary will set up a High court in Mokowe and a Magistrate's court in Hindi. She further thanked Governor Issa Timamy E.G.H, O.G.W for his kind gesture towards allocating them land hinting that it would have been difficult for the Judiciary to buy land in good time with the little resource allocation they have.
"I would want to thank Governor Timamy for his commitment to ensure Judiciary services are brought closer to the people. His actions will greatly help us fulfill our obligation to give access to justice by ensuring that no Kenyan travels for more than 100km to a court station" said C.J Koome.
The new court building will include an Environment and Land Court to address the increasing number of land disputes in Lamu County. Upon completion of the court building, the Judiciary will post resident Judges for both the High Court and Environment and Land Court, further enhancing access to justice for the people of Lamu County.
The court building will also feature specialized Children's courts and Sexual and gender-based violence (SGBV) courts, ensuring that these cases are handled with the care and sensitivity they deserve.
Lamu Governor and ANC Party leader, thanked the Judiciary for their willingness to set up two courts in Hindi ward citing that the courts would greatly help towards ensuring locals don't travel to other counties to seek judicial services. The Governor who is also a High Court Advocate, recognized the crucial role played by the judiciary in upholding justice, safeguarding the rights of our people and ensuring the law is administered impartially.
"This gesture reflects our unwavering commitment to supporting the independence of the Judiciary and promoting the rule of law in Lamu" said Governor Timamy adding that it's through collective efforts that we can strengthen the Judiciary and promote values of democracy, transparency and accountability in our society.
The CJ who was accompanied by the Judges and Judicial officers, was later taken to the proposed sites in Mokowe and Hindi before being taken to the Lamu Port for a familiarization tour and was received by Eng. Dan Amadi, Project Manager and Mr. Salim Bunu, Regional Manager.
In attendance was H.E. Deputy Governor, Raphael Munyua, Lamu County Commissioner, CEC Members, County Secretary Amb. Ali Abbas, Chief of Staff Mr. Abdulnasir Issa, Chief Officers, Members of County Assembly among others.
-Ends-
For more information contact:
Lamu County Government Communications Office at communication@lamu.go.ke