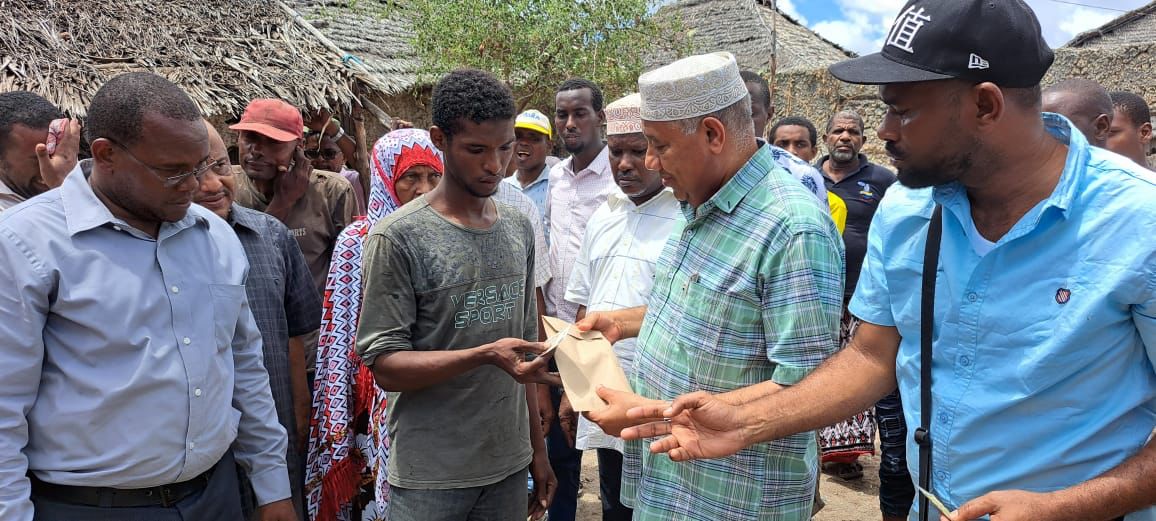 GOVERNOR TIMAMY CONSOLES MBWANJUMWALI FIRE VICTIMS
Lamu Governor H.E. Issa Timamy accompanied by his Deputy H.E. Raphael Munyua is currently at Mbwajumwali village in Lamu East to assess the damage caused by an inferno that razed 8 houses on Saturday 29/10/2022.
The Governor has assured victims that his administration will support them towards rebuilding their lives following last Saturday fire incident that left over 15 families homeless and properties destroyed.
Towards supporting the families the governor gave food supplies and monetary support as part of the support to help the affected families.
"Each of the affected family will receive food supply and Ksh. 50,000, as part of my Governments support towards rebuilding your lives. My administration will enhance the emergency response team as part of the mitigation processes towards such incidents" Governor Timamy said.
The fire is suspected to have been caused by a mentally ill man who threw a burning piece of wood on the roof of one of the houses, resulting to over 8 other houses being gutted down.
-Ends-
For more information contact
Lamu County Government Communications Office at; communication@lamu.go.ke