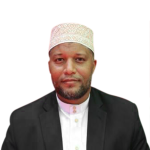 Hon. FAIZ FANKUPI ABUSHIRI
COUNTY EXECUTIVE COMMITTEE MEMBER
Fisheries, Blue Economy, Livestock and Cooperatives Development
Hon. Faiz Fankupi Abushiri is a young Kenyan male aged 37 years born and raised in Lamu.
He studied at Lamu Boys Primary School from 1995 to 2002 attaining Kenya Certificate for Primary School. 
Later, he attained a Kenya Certificate for Secondary School at Lamu Boys Secondary School with a mean grade of B- (Minus).
After High School, he was able to pursue Computer Studies at Lamu Youth Polytechnic in 2007.
Again, he was privileged to pursue Bachelor of Education (arts) at Kenyatta University in 2013 attaining Second Class Honors.
Immediately, after attainment of a bachelors degree, he was employed by County Government of Lamu as Youth Coordinator from 2014 to 2017 and was tasked with the following duties and responsibilities;
Conducting youth activities and programmes in the County.
Resource mobilization.
Ensuring the youth access to Government Procurement Opportunities in the County.
Administration and management of the department affairs and the staffs.
Monitor and evaluating youth programs.
Capacity build and training of the youth.
Carry out needs assessment of the youth in order to prioritize their development agendas.
Formulation of Departmental Strategic Plan and County Spatial Plan.
In 2016, he underwent both courses of Senior Management Course (SMC) and Leadership Development Programme (SLDP) at Kenya School of Government.
Further in 2017 ,he underwent a course on Executive Senior Management Programme at Administrative Staff College of India (ASCI) in India.
Between the year 2017 to 2022, he was employed by Kenya Ports (KPA) as a Senior Operation Assistant, and was tasked with the following duties and responsibilities;
Clearing Cargo at the Berths
Verifying and clearing the cargo shipping documents.
Discharging and loading of cargos.
Human resource management
Report the tonnage of the cargo.
Supervision of the Berth ship
In the year 2022 , he Started pursuing Masters on Business Administration specializing on Strategic Management at Moi University.
Currently, I work as a County Executive Committee (CEC) for Fisheries, Blue Economy, Livestock & Cooperative Development in County Government of Lamu. My roles and responsibilities are as follows;
Implement county legislation;
Implement, within the county, national legislation to the extent that the legislation so requires;
Manage and coordinate the functions of the county administration and the departments; and
Providing the county assembly with full and regular reports on matters relating to the county
Prepare proposed legislation for consideration by the county assembly.
Perform any other functions conferred on it by this Constitution or national legislation.