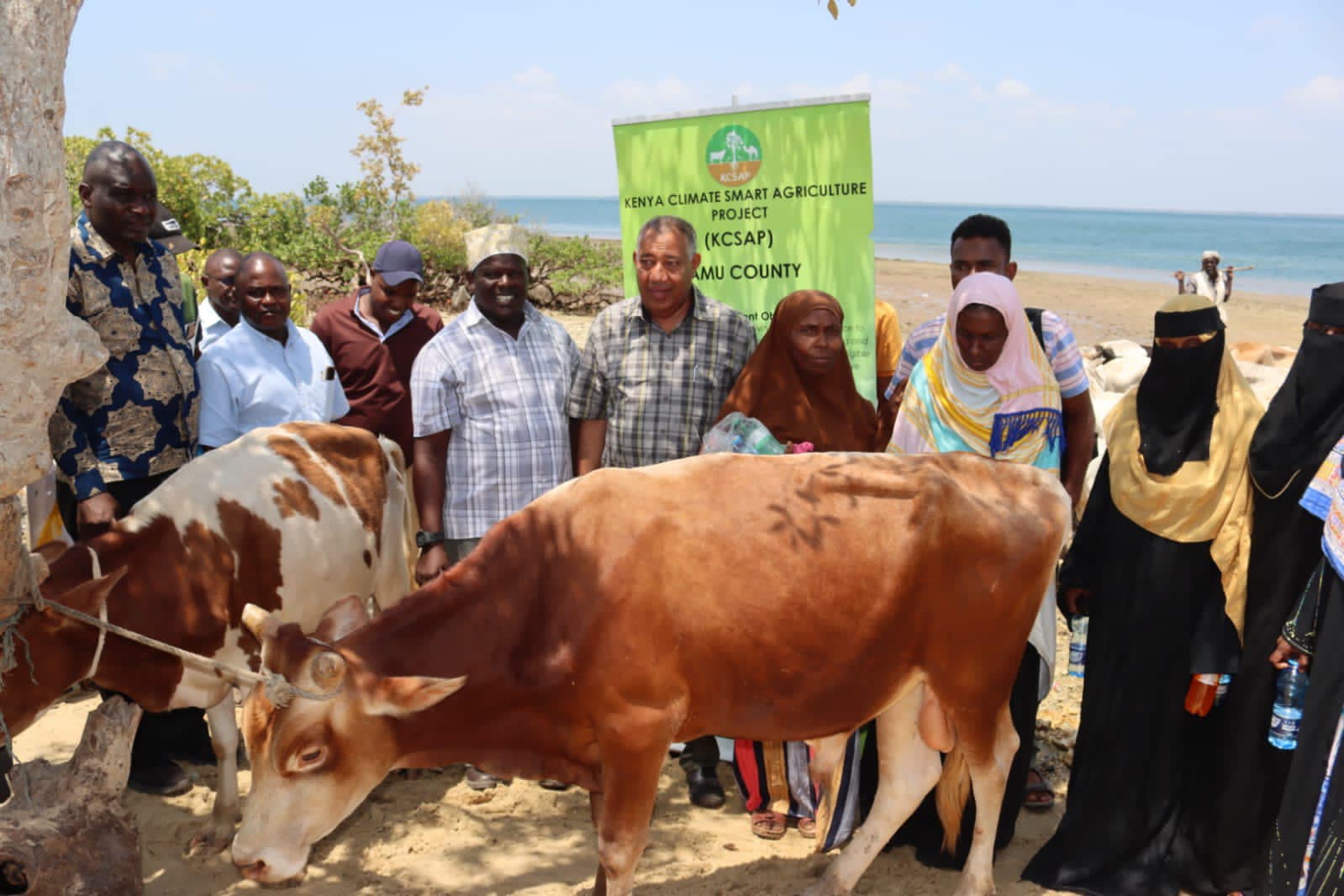 LAMU EAST FARMERS RECEIVE OVER 120 HEIFERS IN A BID TO BOOST DAIRY IN THE COUNTY
Over 200 smallholder farmers in Lamu East Sub-County are a happy lot after having received
123 heifers, 6 bulls and two fiber boats from the County Government of Lamu in partnership with the World Bank-funded Kenya Climate Smart Agriculture Program.
Speaking at Mtangawanda while handing over the grants to farmers, Lamu Governor H.E. Issa Timamy E.G.H, O.G.W, said the fiber boats will turn around the fortunes of traditional fishing folks, increase their fishing capacity and improve food security as well as generating household income.
The Council of Governors' Blue Economy Committee Chair assured the fisher groups that his Administration will help them to exploit the vast marine resources in the expansive coastline and to reach deeper where bigger catches are available.
The small-holder beneficiary groups that received heifers and bulls were encouraged to take good care of the livestock for posterity, assuring them of veterinary extension services support from the County Government.
"All livestock being given to beneficiary groups have been tagged and this will help our officers to identify them whenever they come to inspect their progress" Stated Governor Timamy. He further said the county will be providing animal feeds to farmers.
Agriculture C.E.C.M Hon. James Gichu put on notice farmers who might decide to sell or feed on the animals adding that they are meant to boost dairy farming in the county.
Agribusiness being key in Governor Timamy's manifesto, he has endeavored to empower the farmers to upgrade from cattle herders to dairy farmers where there are high returns depending on the effort put in production.
The beneficiary groups include; Al-Qamar Disabled Self Help Group, Jioe Moyo Disabled Self Help Group, Maendeleo Orphans Self Help Group, Tupe Sitara Women Group, Kilimani Development Self Help Group, Faza Maqbool Youth Group, Siyu Community Health Workers, Salama Self Help Group.
In attendance was Education C.E.C.M Hon. Sebastian Owanga, K.C.S.A.P Coordinator Mr. Stephen Mbuvi, Fisheries Chief Officer Mr. Kamalu Shariff, Chief of Staff Mr. Abdulnasir M. Issa among others.
-Ends-
For more information contact:
Lamu County Government Communications Office Email: communication@lamu.go.ke