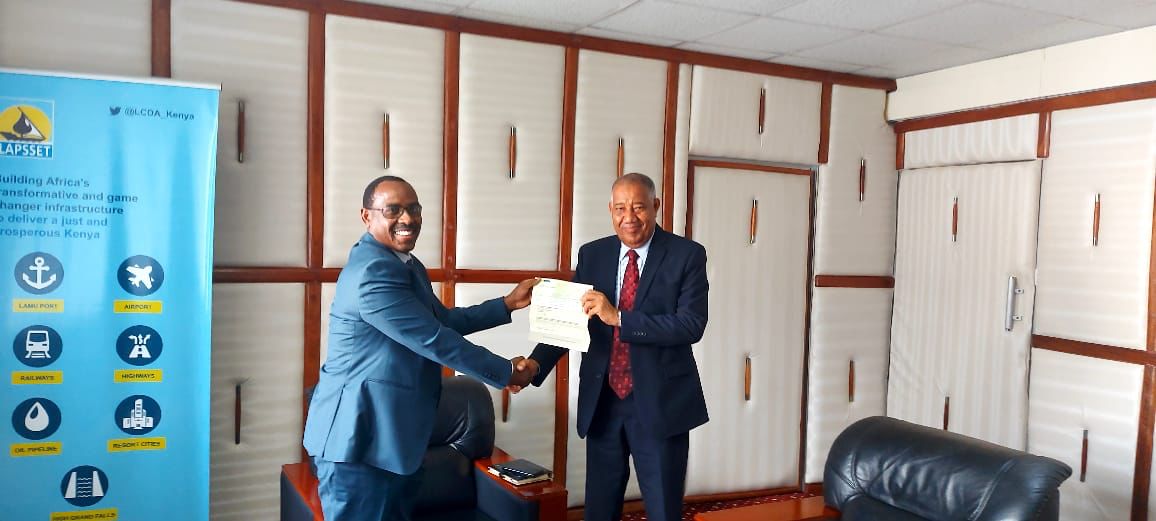 WE WILL CUT OUR NICHE IN THE LAMU PORT; GOVERNOR TIMAMY
Lamu Governor H.E. Issa Timamy has paid a courtesy call on LAPSSET C.E.O Stephen Ikua in his Nairobi office to discuss on how they can cooperate to fast track LAPSSET projects that will in turn create direct employment for the local communities and support indirect jobs in fishery, manufacturing, logistics, transport, trade, and commerce sectors.
The meeting came a fortnight after the inaugural shipment 15,600 herds of livestock from from the Lamu Port to Port of Salalah in Oman that was witnessed by H.E Governor Timamy.
Speaking during the meeting LAPSSET C.E.O lauded the Governors commitment towards ensuring his administration works closely with the National Government towards ensuring Lamu Port achieves its potential in connecting the landlocked East African economies to global trade routes. Mr. Ikua also gave Governor Timamy their (LAPSSET) contribution towards the upcoming Lamu County Cultural Festivals that are slated in November this year.
On his side Governor Timamy said his administration will remain upbeat in ensuring locals from Lamu are able to compete and tap into the vast opportunities being created by the Lamu Port of Lamu which will soon position Kenya's economy on the continent and globally.
The LAPSSET Corridor Program is Eastern Africa's largest and most ambitious infrastructure project bringing together Kenya, Ethiopia and South Sudan. It consists of 7 mega projects that includes Lamu Port, Inter regional highways, Crude oil pipeline, Product oil pipeline, SGR, Airport and Resort cities.
Governor Timamy was accompanied by the County Secretary nominee Amb. Abbas Ali.
-Ends-
For more information contact
Lamu County Government Communications Office at; communication@lamu.go.ke