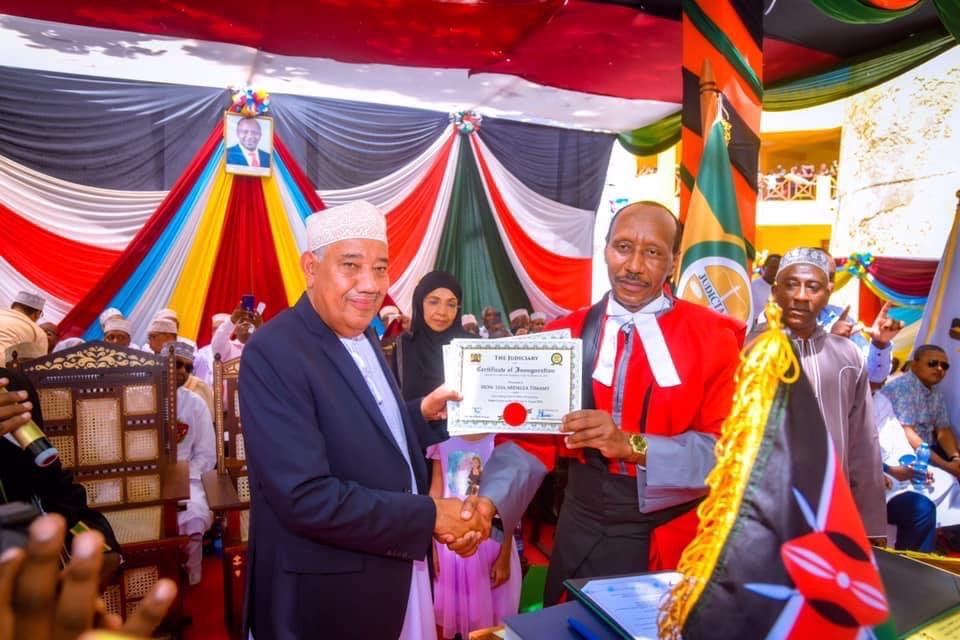 The Honourable Judge
H.E. The Deputy Governor Mr. Raphael Munyua
The Lamu County Senator Hon Joseph Githuku
The County Women Rep Hon. Monica Marubu
Members of Parliament – Hon Ruweida Mohamed Obbo & Hon Stanley Muthama
Hon. Members of the Lamu County Assembly
The Religious Leaders
The Women and Youth Leaders
My Family and Friends
And above all, the great People and Citizens of Lamu County
Bismilahi Rahmani Raheem
The distinguished people of Lamu, I am delighted and humbled to take the oath of the high office of the Governor of Lamu County for the second time. All praises and gratitude are to our Creator and the only One worth of worship, Allah (Subhanuhu wataa'alla). I dedicate this solemn victory and singular honour to my late parents who passed-on in the run-up to this election (in February and May 2022), the Late Sheikh Abdalla Issa Timamy and Mrs. Saada Soud Mohamed. These are the two individuals who have provided me with my true north moral compass and inculcated in me the highest core values and virtues of honesty, integrity, humility, tolerance, persistence and above all hard work. They have equipped me with the tools that have enabled me to be where I am standing today. May Allah grant them the highest station in Janaatul Firdaus.
Brothers and Sisters of Lamu, every five years, our cherished Kenyan democracy gives the ordinary citizen an opportunity to choose their leaders. This is the third time I have contested for the gubernatorial seat and the second time you have honoured me with your confidence. This time, more than the previous two times, you have bestowed on me a historic win, a resounding victory and a clear mandate with over 8,000 votes above my nearest competitor. Thank you the people of Lamu for this unequivocal voice. You have spoken loud and clear. I am truly humbled by the confidence that you the people of Lamu have shown in me. Asanteni Sana!!! "To Whom Much is Given Much is Expected". I promise to give back much to the Lamu people.
During the campaigns in the last three electoral cycles, I have crisscrossed the entire length and breadth of Lamu County. I traversed the remotest villages, the thickest forests, the driest patches, crossed the oceans to the most far-flung islands and in general visited virtually every part of our County. I have talked to and listened to all segments of society, elders, men, women, youth, and children. I talked to the wealthy and affluent as well as the poor and lowly. I talked with professionals, religious groups and entrepreneurs. From all these discussions, I gathered that the Lamu people wanted someone they can trust to deliver on equity and social justice and who is responsive to their needs. They wanted someone who can give them hope for a better life into their future and that of their children. In all these discussions, I invariably took the promise to honour your quest for a better quality of life. My dream is to see a prosperous Lamu at peace with itself with a good quality of life for all. I therefore, wish to appeal to all of you today and in particular the elected leadership of Lamu present here that our singular objective should be to improve the lives of the Lamu residents. If we are united in this singular call then nothing will be impossible.
Ladies and gentlemen, today I want to tell you in plain language and in crystal clear terms that my becoming a Governor for the second term is NOT to enrich myself, my family or the large circle of friends that I have. The reason is one and only one, I would like to roll up my sleeves and get down to the hard work that will be required to improve the lives of the Lamu citizens. To give the people of Lamu hope that they can elect good and upright people who are not averse to transparency, accountability and integrity. My one desire is to ensure that each and every Lamu citizen feels the change for the better in their lives. My passionate plea to you today is to join me in ensuring we fulfil the promise to the Lamu people for a better quality life. I am reminded of the old adage "Nia Zikiwa Moja, Kilicho Mbali huja". I am persuaded that it is possible to change our many years of marginalization into shared prosperity for all Lamu residents.
Let me reiterate that, whether you voted for me or not, whether we have agreed or disagreed in the past, today, I am your Governor. Young or old, rich or poor, regardless of where you come from I promise you this: I will work extremely hard and spend every waking hour of every day to build a better life for all of our people. Now that you have given us your vote, you must hold us to account. We will move forward into the future united as never before and with a resolve to shift the ways of yesteryears. Under this administration, the hope for opportunity will begin to be realized. That unity must be based on the recognition that leadership is about the real issues that affect delivery, not the issues of division fuelled by some for political gain.
The era of the winner takes it all is gone. The era of partnership and acrimony has not served the people well. Problems have worsened while too much of the time of our leaders has been spent assigning blame instead of assuming responsibility. Today, we are taking a new direction. Today, a new era of accountability and transparency is here.
Governance and administration is all about the execution of Policies and Programs of Government. Every single sector whether Education, Health, Infrastructure and so on, will rely on the efficiency and effectiveness of the administration. Besides administration calls for absolute discipline, dedication and patriotism. Indeed, the administrators in my government will deliver. We will also desist from ethnicity, corruption and laziness at all costs and we will surely succeed. In our second term of Government and with hindsight and experience gained from our first term, it will not be business as usual. We will never be satisfied with mediocrity and incompetence. Instead we will promote and propagate meritocracy in public service.
We shall not be satisfied until Quality Education is within reach of every young person in the County and we uplift the quality of education our county to match those of the best performing counties. Education is the best equalizer in life. That means we must invest in our public schools, invest in teachers, books and equipment from early education to public universities because Education is the most powerful weapon which you can use to change your life, your country and the world. Lamu County for the past several years has performed dismally in National Examinations both Primary and Secondary and we expect this to shift and change very soon.
We shall not be satisfied until health care is as affordable and accessible to all. That means ensuring that our hospitals are well equipped with the basic treatment facilities and properly staffed in order to deliver better medical care for our people. We do not want to hear that a mother has died due to birth complications or a child has died for any treatable ailments any more. We shall demand that there is a resident Doctor on call at all times at the Lamu King Fahad Hospital and all sub-district hospitals and that specialists will be required to visit the hospitals every so often to deal with specials ailments.
We shall not be satisfied until we create the necessary economic growth that will provide jobs and give people their dignity. Throughout my political career and public life, I have fought for the dignity of the poor and this administration's efforts to reduce poverty through stimulating job creation will not neglect the dual mission of poverty alleviation for our people who need our help the most. As we are all aware, the Lamu Port is now operational and I pledge to work with the national government, as well as the private sector and civil society, to stimulate local and international investment and ensure that the people of Lamu County are given priority when jobs are created. Only by ensuring that this County creates jobs can we speak of policies providing opportunities. We will do all we can to increase investment in the fishing industry, blue economy, livestock sector and agriculture through planning and marketing. But we will also use opportunities available within the County itself to provide people with skills and jobs.
We shall not be satisfied until tourism is properly managed in our county. Lamu is recognized by the UNESCO World Heritage Centre as a World Heritage Site due to its Outstanding Universal Value. These values are found in our culture and way of life and we must ensure that it is not lost in the allure of easy money. We must ensure that while we want tourism to thrive as an economic earner in our County, we must also protect our priceless heritage, so that we retain the true character of Lamu for future generations.
We shall not be satisfied until there is proper infrastructure development in Lamu especially in terms of piped water, electricity and sanitation. We shall work with the National government to ensure that this infrastructural development is supported and funded.
We shall not be satisfied until our children stop abusing illegal substances, until we have developed and implemented a comprehensive strategy for preventing drug abuse, one that ends the despair felt by too many young people and the fear felt by everybody else, especially parents. This is a major problem affecting the Coast Province and it frustrates me deeply. But I know the answers are out there. So, we will engage the full spectrum of people who work with young people such as educators and law enforcement, the clergy, red-cross, and business leaders, victim advocates, and survivors and whoever is willing to help and support a young person on to a positive future. It threatens our fundamental beliefs as a people and it must stop.
I will also work hand and in hand with the National Government to ensure that we solve the twin issues of natural resource limitations and insecurity occasioned by climate change and recurrent droughts and proximity to neighboring fragile insecure countries.
For my part: I asked to serve as Governor to help solve our County's problems. I asked to serve because I believe we can do it and we can chart a new course and write a better history for ourselves. I stand here today as Governor completely confident that we are up to the challenge.
Together, we must take the future in our own hands and shape it to our liking.
Together, we can build a stronger economy.
Together, we can build better schools that train our students for a brighter future. Yes, we will provide schools with resources required but we will have to hold the very same schools accountable. We will have to reward excellence, and not tolerate failure.
Together, we can create opportunities and make it easier for the entrepreneur to create new jobs.
Together, we can help our national government be a friend and not a barrier to growth.
Most of all, together we can restore pride in our County. We have the talent, the natural beauty, the rich history, and the even richer character of our people, to be proud of Lamu again.
If we can do these things, Lamu County can indeed be a place to emulate. It will not happen overnight, for our problems did not accumulate in a day. They have been decades in the making.
I pledge to make a difference. And each of you will make a difference too, if you believe in a better tomorrow. I did not come to this office for failure, Believe me, I came here for success. I came here for the kind of success that only comes from putting public service ahead of self-service.
As I traveled throughout the County in the last 12 months looking for your support, I made promises simply put, I will "do what I promised I would do". So let there be no doubt in this square today or in any corner of this County. I will treat those promises to the people of our County just as solemnly as I will treat my oath of office. I will do exactly what I said I would do over the last year.
And to all of you, I ask you to build this better future with me. I ask you for your help.
Finally,
Unity begins with the realization that none of us has a monopoly of good ideas.
The range of ideas in this County is as broad as our people are diverse. I say to this Government and the people of Lamu County that, as Governor, I will govern in the best interests of all our people.
We will engage constructively with anyone who has a legitimate proposal to improve the lives of the people of Lamu County.
The next five years will be challenging.
The goals of this administration will not be easy to achieve. But with determination, will and the relentless drive to succeed, they are more than possible. I have been given a mandate to lead this County to provide opportunities for all of our people. I am willing and ready, Are you Ready? Are you willing
Thank you!
God Bless You, God Bless Lamu County and God Bless Kenya
Governor Issa A. Timamy