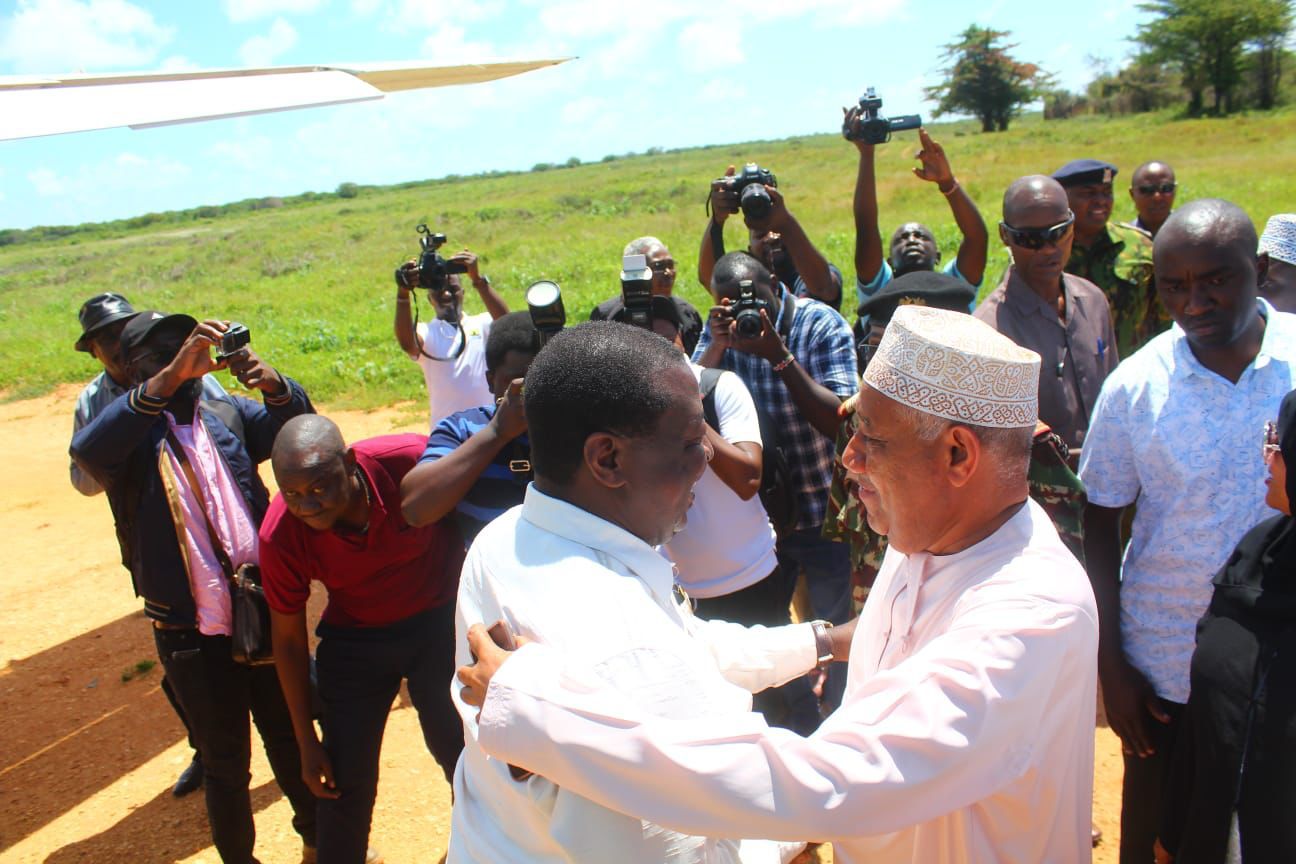 PRIME CABINET SECRETARY MUDAVADI ARRIVES IN LAMU TO CELEBRATE CULTURAL FESTIVALS
Prime Cabinet Secretary H.E. Musalia Mudavadi has today arrived in Lamu to celebrate the 20th Annual cultural festivals.
The former A.N.C Party leader was recieved by H.E. Governor Issa Timamy who was joined by his Deputy H.E. Raphael Munyua.
The three day cultural festival kicked off yesterday in high gear and was graced by the Lamu Governor and A.N.C Party Leader where thousands of visitors will have an opportunity to enjoy traditional dances, cooking displays, donkey racing, mashua racing, iron man triathlon, cultural displays, soccer, swimming and fishing competitions among others.
This is year's event is being held at Lamu Island which is a world heritage site and the oldest surviving swahili town. It is running under the theme; 'A melting pot of diversity and multiculturalism" which is a key driver in celebrating the diversity in our cultures, promoting intercultural understanding and showcasing various communities' rich and diverse cultural expressions.
The Deputy Governor later accompanied the Prime Cabinet Minister on a tour to the Port of Lamu, where they deliberated on how to optimize the port operations and unlock it's potential by creating employment, opening up opportunities as well as positioning Lamu as an economic hub within the coastal region.
The Prime Cabinet Secretary is among top government officials and dignitaries who are in Lamu to celebrate this year's festival.
"We are alive to the fact that culture can be used to foster peace, unity, and integration and ultimately enhance county and national development. I am glad to be in Lamu today to celebrate this years cultural festivals where this great county has been able yo bring out its magic of the Kenyan coastal Island" Said the Prime Cabinet Secretary, adding that this event will significantly increase both domestic and international tourist arrivals.
Lamu Deputy Governor praised the event as a platform for marketing Lamu's culture within the region and internationally.
"This festival aims at bringing together local and foreign tourists to celebrate the rich diversity of Lamu cultural heritage and creativity. Under the leadership of Governor Timamy we intend to use this festival as a platform to promote cultural tourism as well as conservation, safeguarding and development of our cultural heritage. The event has created direct employment to thousands of youths and has also positioned Lamu as the most preferred tourist destination," said the Deputy Governor.
Lamu is one of the largest and most visited islands renowned for its Swahili cultural heritage, donkey sanctuaries, white sandy beaches, pristine blue waters and many cultural traditions.
-Ends-