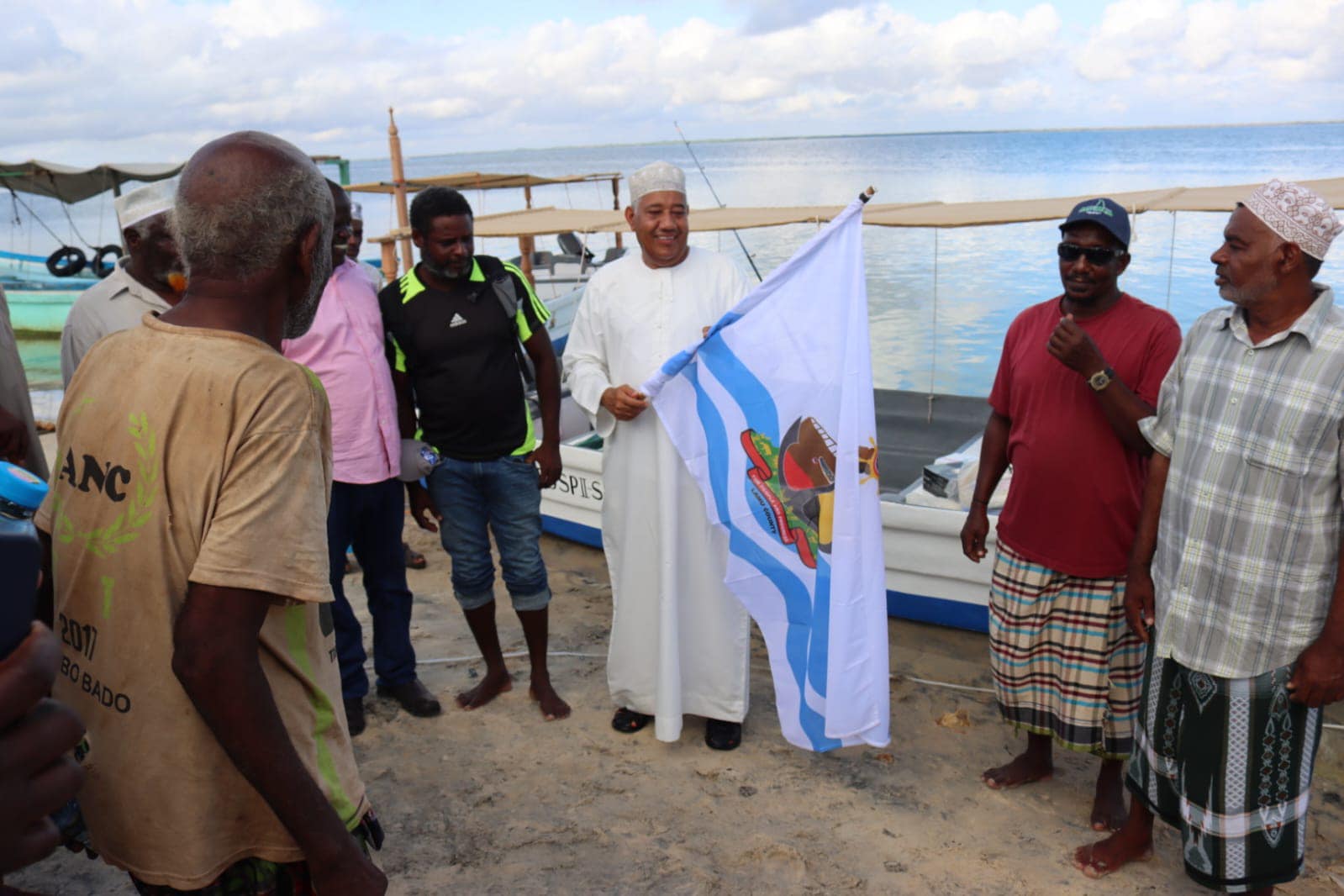 FISHER GROUPS RECEIVE MODERN FISHING BOATS TO BOOST FISHING IN LAMU EAST
Two fisher groups from Lamu East have today received a major boost after the County Government of Lamu in partnership with Agricultural Sector Development Support Programme (ASDSP) gave them two fiber fishing boats, outboard engines and fishing gears that will enable them navigate the deep waters.
Speaking during that hand over exercise at Kizingitini, Lamu Governor H.E. Issa Timamy E.G.H, O.G.W his Administration was committed to support fisher groups in an attempt to achieve employment, improving fishers' welfare, ensuring the sustainability of the sector and encouraging food production.
The two fisher groups namely Kiwayu Tuna Fishers Organization and Kizingitini Fishers Organization
thanked Governor Timamy and the Council of Governors' Blue Economy Committee Chair for his unrelenting support towards the smallholder fisher groups in Lamu.
Among the fishing gears that were given include
fishing lines, artificial baits, fishing rods, fiber ice boxes, anchor ropes, water proof bags, first aid boxes, gps among others.
In Lamu, ASDSP || supports three value chains that include fisheries (Tuna fish), poultry (Indigenous Chicken) and cashew nut farming.
The Governor is later expected to visit Chundwa where he will give value chain organizations indigenous chicken and incubators.
In attendance was CEC Member Hon. James Gichu, County Secretary Amb. Ali Abbas, Chief of Staff Mr. Abdulnasir M. Issa, Area MCA Hon. Mohammed Abubakar Simba, ASDSP || Coordinator Mr. Richard Njuguna, Value Chain Development Officer Md. Beth Mwaringa among others.
-Ends-
For more information contact:
Lamu County Government Communications Office Email: communication@lamu.go.ke