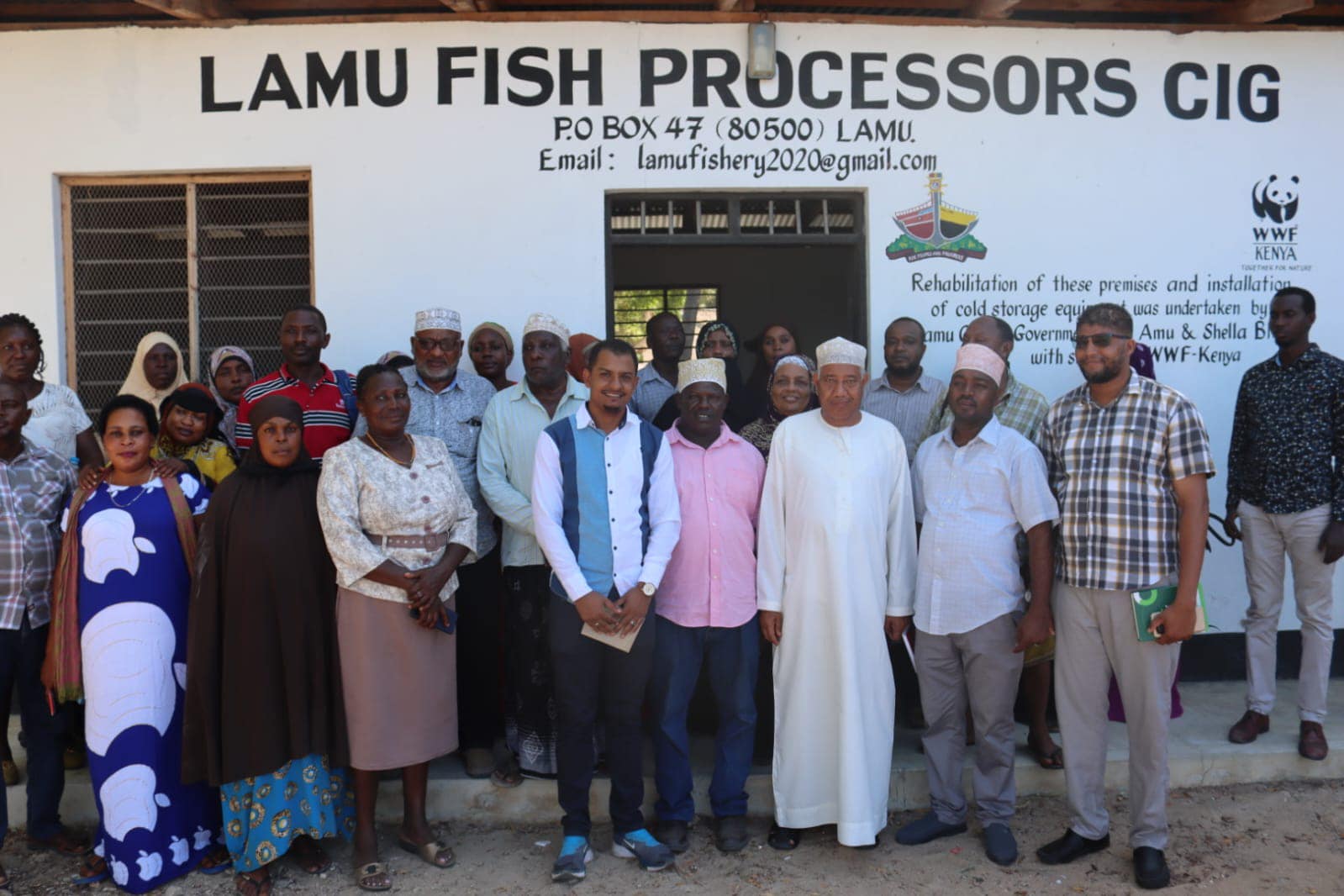 GOVERNOR TIMAMY HANDS OVER SUPPORTED INNOVATION EQUIPMENT TO VALUE CHAIN ORGANIZATIONS IN LAMU ISLAND
Lamu Governor H.E Issa Timamy E.G.H, O.G.W has this afternoon handed over cooler boxes, freezers, slicing machines among other supported innovations to value chain organization groups in Lamu Island.
The grant was given by County Government of Lamu in partnership with Agricultural Sector Development Support Programme || (ASDSP) and will benefit two groups namely Lamu Fish Processors of Community Interest Group and Lamu Mama Karanga Self-help Group who will be operating from Lamu Fisheries along the seafront in Mkomani Ward, Lamu Island.
Governor Timamy committed to continue supporting community of interest groups to accelerate production by economically empowering them to improve their returns and output that meets the demands of the domestic market.
The ongoing multifaceted value chain innovation support for improved income food and nutrition security aims to increase productivity while creating resilience and assiting them to expand the fisheries enterprise.
The Council of Governors' Blue Economy Committee Chair further stated that his administration had significantly increased the budget allocation for the fisheries department adding that it will help towards tapping into the blue economy enormous opportunities.
Among the supported innovations that were given included; 4 Cooler boxes, electronic weighing scales, 6 chest freezers, 6 double chest freezers,
gum boots, aprons, vacuum packaging machine, stainless knives, first aid boxes, stainless steel sheet tables, solar lit boxes among others.
The Governor was accompanied by Agriculture CEC Member Hon. James Gichu, Fisheries CEC Member Hon. Faiz Fankupi, County Secretary Amb. Ali Abbas, Chief Officer Kamalu Shariff, Chief of Staff Mr. Abdulnasir M. Issa, Mkomani MCA Shekhuna Abbas, Faza MCA Mohamed Abubakar Simba, Nominated MCA Ahmed Medo, ASDSP || Coordinator Mr. Richard Njuguna, Value Chain Development Officer Md. Beth Mwaringa among others.
-Ends-
For more information contact:
Lamu County Government Communications Office at communication@lamu.go.ke