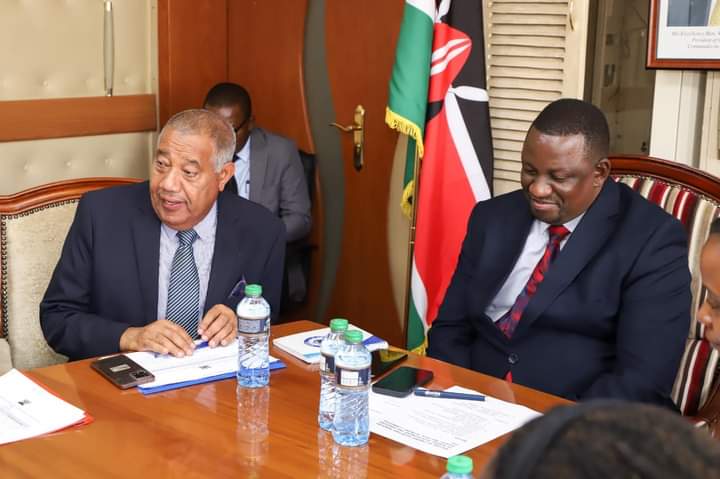 GOVERNOR TIMAMY LEADS BLUE ECONOMY COMMITTEE OF THE COUNCIL OF GOVERNORS IN PAYING A COURTESY CALL TO C.S MVURYA TO DELIBERATE ON HOW TO STIMULATE BLUE ECONOMY IN COASTAL COUNTIES
Lamu Governor H.E. Issa Timamy E.G.H has today led other coastal governors in paying a courtesy call on the Cabinet Secretary of Mining, Blue Economy and Maritime affairs H.E. Salim Mvurya E.G.H to discuss on how they can stimulate economic development around the blue economy.
The two arms of government agreed to convene an intergovernmental forum on blue economy and establish intergovernmental sector forums for continued engagements.
Governor Timamy who is also the Council of Governors Blue Economy Committee Chairperson together with the P.S Fisheries and Blue Economy and the C.E.O will now work together in forming a task force team between the two arms of governments that will review and align the legislations and policies that conform to the constitution on Blue Economy.
C.S Mvurya further tasked Governor Timamy to represent the C.O.G in a KEMSFED steering committee after the five coastal governors discuss and approve on proposals to restructure KEMSFED project to ensure it achieves its objectives and aligns with county policies.
Speaking during the meeting the A.N.C Party leader thanked C.S Mvurya for hosting them and underscored the impact of blue economy noting that Blue Economy is pivotal in accelerating inclusive economic growth.
"Kenya's coastal and marine environment is endowed with rich natural resources, which are of immense social and cultural value to the coastal region inhabitants and the nation at large. Although their environmental and cultural value is undeniable, the resources also have massive economic potential. As the C.O.G Blue Economy Committee Chair, I'm commited to ensure we chave a good working relationship with the national government to ensure the objectives of Blue Economy in the context of coastal counties, prioritise the sustainable use of ocean resources for economic growth, livelihoods and jobs, and ocean ecosystem health" Governor Timamy said.
The Governors and the C.S also agreed that the Ministry and the C.O.G will be working closely in the spirit of cooperation and consultation as envisioned in the constitution.
Other Governors present were; H. E. Fatuma Achani (Kwale), H. E. Gideon Mungaro (Kilifi), H. E. Abduswamad (Mombasa), H. E. Otuoma (Busia), and H. E. Achilo Ayako ( Migori ).
-Ends-
For more information contact: Lamu County Government Communications Office at info@lamu.go.ke