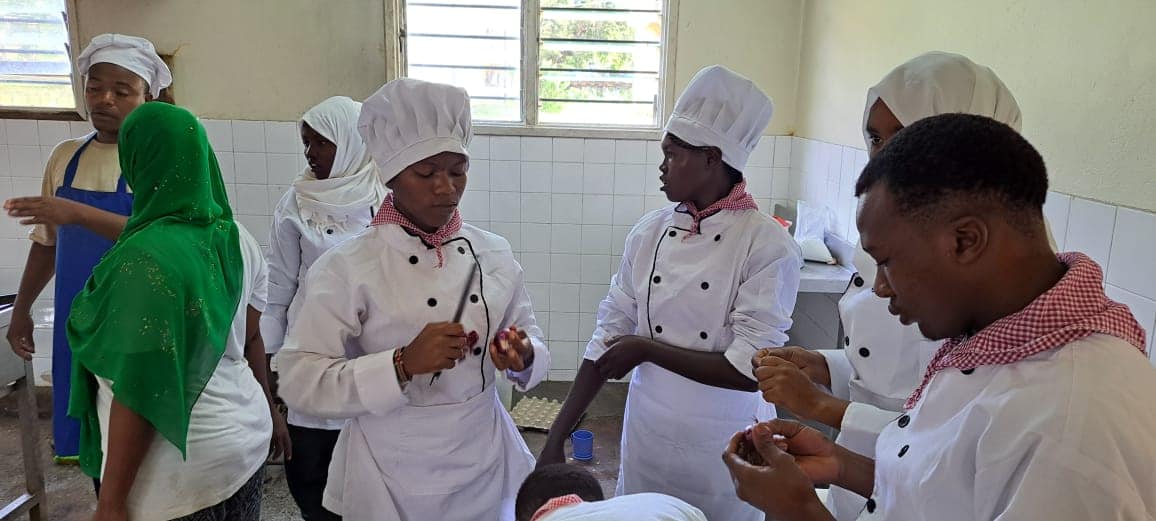 LAMU AND WITU VTC TRAINEES UNDERTAKE OUT REACH PROGRAMS AT KING FAHD, WITU HOSPITAL AND WITU PRIMARY RESPECTIVELY
Towards giving our Vocational Training Center trainees hands on experience, creating a bond with the community, instilling self discipline and giving back to the community, Lamu and Witu VTCs have today undertaken various outreach programs at King Fahd Hospital, Witu Hospital and Witu Primary School respectively.
Trainees from Lamu VTC who are pursuing Hospitality, Electrical and Plumbing courses were at King Fahd Hospital where they put to practice their life employed courses by cooking for patients, cleaning admission wards while those undertaking electrical course took to repair and maintenance works at the hospital. Trainees also did plumbing works at the facility.
At Witu, Mechanical trainees from Witu VTC carried out routine maintenance at the Witu Health Centre stand by generator with those pursuing Fashion design and Hospitality trainees spent their day undertaking hospitality chores at the facility with their dressmaking counterparts, repairing the school uniforms for Witu Primary school pupils.
Towards achieving the far-reaching reforms in the TVET sector to churn technologists and artisans required to contribute to Kenya's and Lamu's industrial goals, Lamu Governor H.E Issa Timamy EGH, OGW has continued to encourage the youths to take advantage of the opportunities to secure foundational skills set to get employment opportunities or even self-employ.
The Department of Education has further remained committed towards increasing the number of graduates with technical expertise to mirror the national government's ambition to reduce a skills gap that exists in building infrastructure in line with Vision 2030 development goals.
_Ends_
For more information contact:
Lamu County Government Communications Office at communication@lamu.go.ke