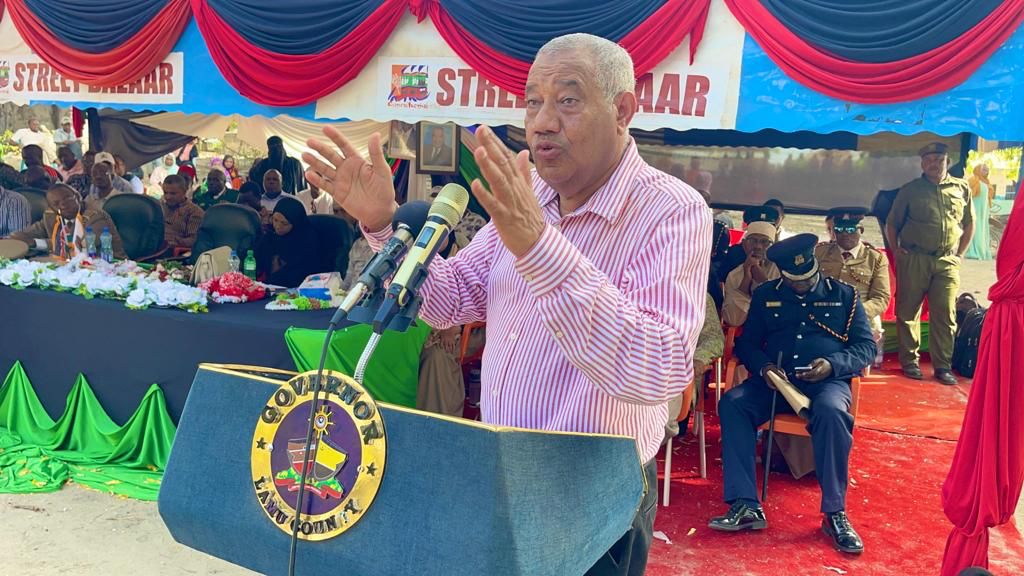 POMP AND COLOUR CHARACTERIZE LAMU COUNTY JAMHURI DAY CELEBRATIONS
Today marked the 59th national Jamhuri Day celebrations with Lamu East residents from all walks of life being treated with pomp and colour at the county level celebrations that were held at Faza primary school grounds in Faza Ward.
Lamu Governor H.E. Issa Timamy accompanied by First Lady H.E. Hajara Albusaidy and Lamu County Commissioner Mr. Irungu Macharia, led the county in the national celebrations at Faza, making it the first such national celebration to be held in Lamu East.
Speaking during the ceremony, where hundreds of attendants were treated to a galore of entertainment, the A.N.C. Party leader thanked his fellow elected leaders for the peaceful coexistence and teamwork. He further asked all Lamu residents to take this celebrations as a time to reflect on the commitment, dedication, selflessness and patriotism of the sons and daughters of our forefathers who laid their lives for Kenya to be free.
"We are marking this year's Jamhuri day against the backdrop of 100 days as the Governor and Deputy Governor of Lamu County. Within that period, my administration has managed to put in place structures that will support our development agenda for our great county" Governor Timamy said.
The A.N.C party leader who was awarded E.G.H title today by President Dr. William Ruto, in recognition of his distinguished services rendered to the nation in various capacities, said his administration was in the process of reviewing the Universal Health Care coverage to ensure it's effective and only covers deserving persons. He further noted that the county was in the process of digitizing all health facilities, a move that will curb leakages and improve on efficiency and service delivery.
While congratulating the new C.E.C.M's nominees that will be sworn in tomorrow, Governor Timamy committed to continue supporting the bursaries and scholarships as a way of empowering the Lamu community by providing equal access of education to all. He also noted that his administration will roll out fortified 'Uji' program to all E.C.D.E centers but urged parents to take part and support the program by volunteering to cook for their children in schools. "In bid to help in retaining children in schools and reduce malnutrition, my administration will be launching free fortified porridge in all our E.C.D.E centers across the county. However, I call upon parents and guardians from those centers to volunteer in cooking for our children on rotational basis as a way of making the program successful" stated Timamy.
The Council of Governors Blue Economy Chairperson who was leading the national celebrations for the first time in Lamu East, assured the fishermen who have been seeking for compensation that his administration will work closely with the relevant authorities to ensure the fishermen who were displaced by the new Lamu port — LAPSSET — are fully compensated.
The county boss further declared war on drug dealers and cartels in Lamu and assured the public that his administration will work closely with the National Government to curb the drug problem in Lamu.
"Youth constitute an integral part of Lamu's population and hence my government will remain steadfast in focusing on initiatives that would lead to their socio-economic empowerment" he added.
Lamu County Commisioner Mr. Irungu Macharia who read the President's speech, called for concerted efforts between the national and county governments leaders in implementation of development projects for the good of the people.
Lamu Deputy Governor H.E. Raphael Munyua committed to assist the Governor to deliver on their mandate and on all the pledges that they made during the campaigns. He further urged politicians and leaders across the political divide to concert their efforts on issues that are geared in aiding Lamu towards it's recovery path.
Next year's Jamhuri day celebrations will be held in Kiunga under the new county rotational celebrations program. Mashujaa day shall be held at Witu while Madaraka Day shall be celebrated at Mpeketoni.
Also in attendance was, Lamu West M.P Hon. Ruweida Obo, Senator Hon. Joseph Githuku, Women Rep. Hon. Muthoni Marubu, County Executive Committee Members nominees, County Secretary Amb. Ali Abbas Ali, Chief of Staff Mr. Mr. Abdulnasir M. Issa among others.