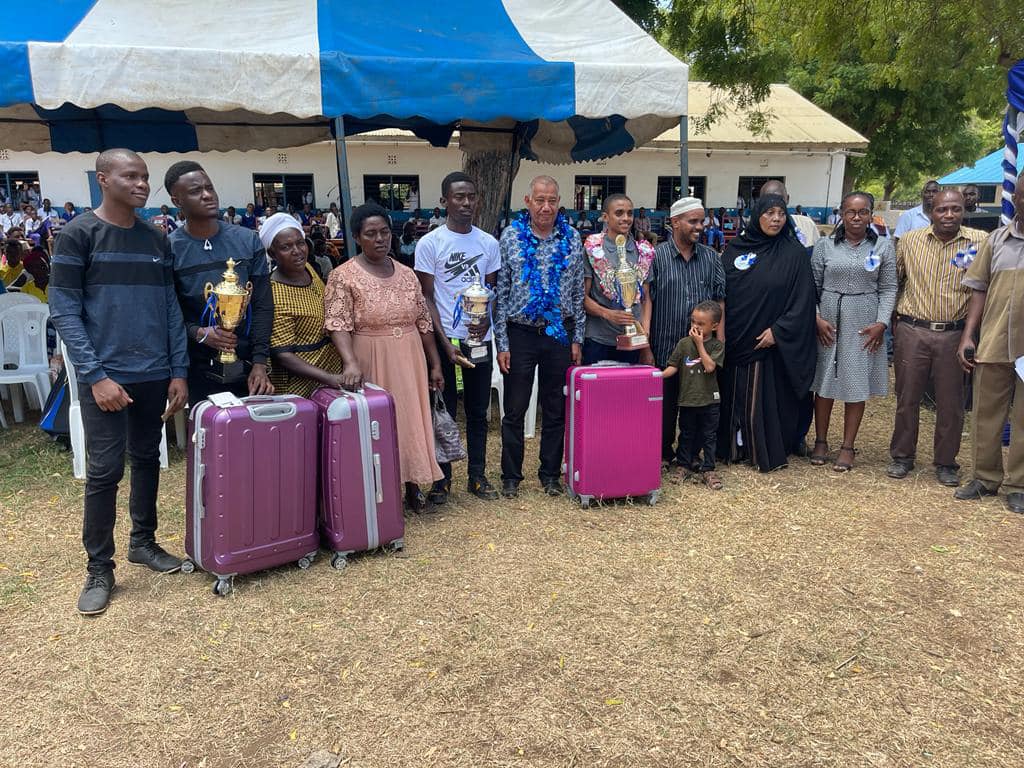 GOVERNOR TIMAMY PRESIDES OVER MPEKETONI BOYS HIGH SCHOOL PRIZE GIVING CEREMONY
Lamu Governor H.E Issa Timamy E.G.H, O.G.W has today presided over Mpeketoni Boys' High School Prize giving day. The ceremony seeks to recognize and reward outstanding students in the year 2022.
Awards were given to 60 students who recorded a mean grade of B- and above in the Kenya Certificate of Secondary Education (KCSE) in 2022.
Teachers of the leading subjects in KCSE 2022 were also recognized and awarded.
Mpeketoni Boys' High School was ranked the second in the county (2022 KCSE), registering a mean-score of 6.47, which was an improvement from 2020 5.74 mean score.
Outstanding teachers and students received a wide range of gifts including, cash prizes, suit case, trophies among other goodies.
Governor Timamy reiterated Lamu County Government's commitment to ensure access to education for all, saying that the County Government of Lamu will continue giving scholarships and bursaries to all top performers and deserving students across the county.
"My administration has pledged to pay Kenya shillings forty thousands Ksh 40,000/= in form of scholarship per learner identified through the rigorous but consultative process. Presently, my Government has already disbursed scholarships to all form two, three and four continuing students and we will from next week be rolling out the disbursement of form one scholarships" added the County Boss.
The A.N.C party leader further denoted that the scholarship program had proven to be a great catalyst towards helping to improve the general performance of the whole County.
"I appreciate the school leadership, teachers, parents, learners and all the stakeholders for enabling the school to post a mean score of 6.47 in 2022 KCSE; which is historic in Lamu County. This cumulates to increased university transition and consequently skilled manpower in the county" stated Governor Timamy.
Deputy Governor H.E. Raphael Munyua who's an alumnus of Mpeketoni High School congratulated the school following their outstanding performance in the 2022 KCSE exams and commended the teachers for their hard work and dedication. He further committed to support Governor Timamy's education pillar that is geared towards bringing equality and the desired change in society.
Education CECM Hon. Sebastian Owanga encouraged students to keep leveling up and committed that his department will ensure timely disbursement of bursaries and scholarships and guaranteed education access to every needy child regardless of their social economic background.
In attendance was County Secretary Amb. Ali Abbas, Chief of Staff Mr. Abdulnasir M. Issa, BoM, Parents Association representatives, School Principal Mr. Mathews Kalume, parents/guardians among others.
-Ends-
For more information contact:
Lamu County Government Communications Office at communication@lamu.go.ke