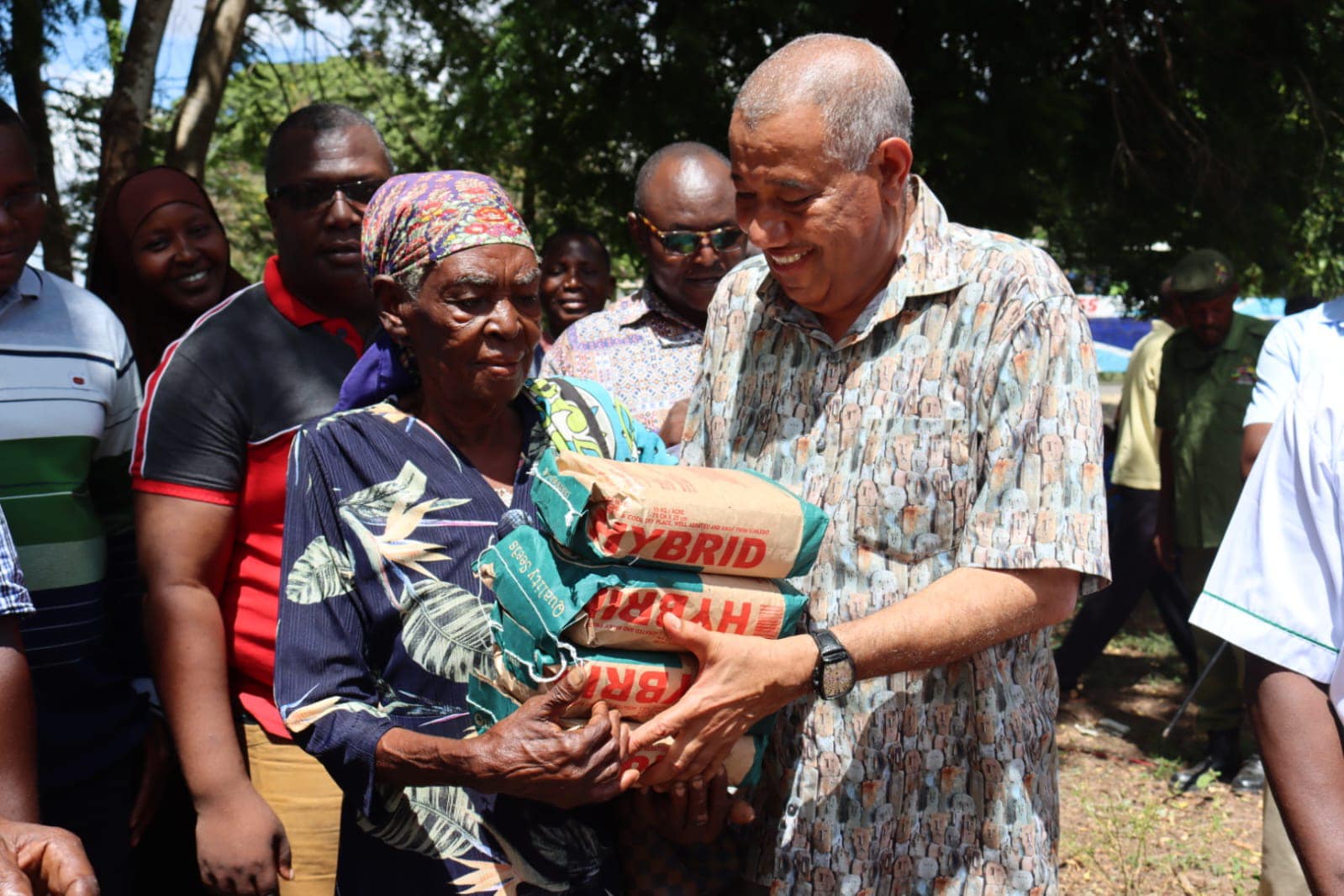 OVER 13,000 SMALL HOLDER FARMERS FROM LAMU WEST RECEIVE FREE PLANTING SEEDS FROM COUNTY GOVERNMENT OF LAMU
Lamu Governor H.E Issa Timamy E.G.H, O.G.W is currently in Lamu West Sub-County spearheading free seed distribution in Hongwe Ward.
Over 13,100 smallholder farmers from Hongwe Ward are ecstatic following the start of rains and the County Government's timely intervention to supply them with certified maize seeds, green gram seeds, cow peas seeds , sorghum seeds, nerica rice seeds, BT cotton seeds and cashew nut planting seeds.
Despite rising fuel prices, Governor Issa Timamy's administration is offering subsidized tractor services for only Ksh 1,800 per acre with agricultural extension officers who will be helping farmers in their decision-making and ensuring that appropriate knowledge is implemented to obtain the best results with regard to sustainable production and general rural development.
"We procured the seeds to ensure that we give our farmers quality seeds. The seeds are early maturing, tolerant to diseases and high yielding. Our main objective is to improve food security and empower our people economically," Governor Timamy said.
The County Chief, who was accompanied by his Deputy H.E Raphael Munywa said Lamu County farmers will also receive extension services offering them technical advice and training to maximise production.
The Governor was accompanied by CECM Agriculture, Hon. James Gichu, County Secretary Amb. Ali Abbas, Chief of Staff Mr. Abdulnasir Issa, Hongwe MCA Hon. John Mburu, Nominated MCA Hon. Aisha Abdulrahman, Hongwe Ward Administrator among others.
-Ends-
For more information contact
Lamu County Communications Office communications@lamu.go.ke