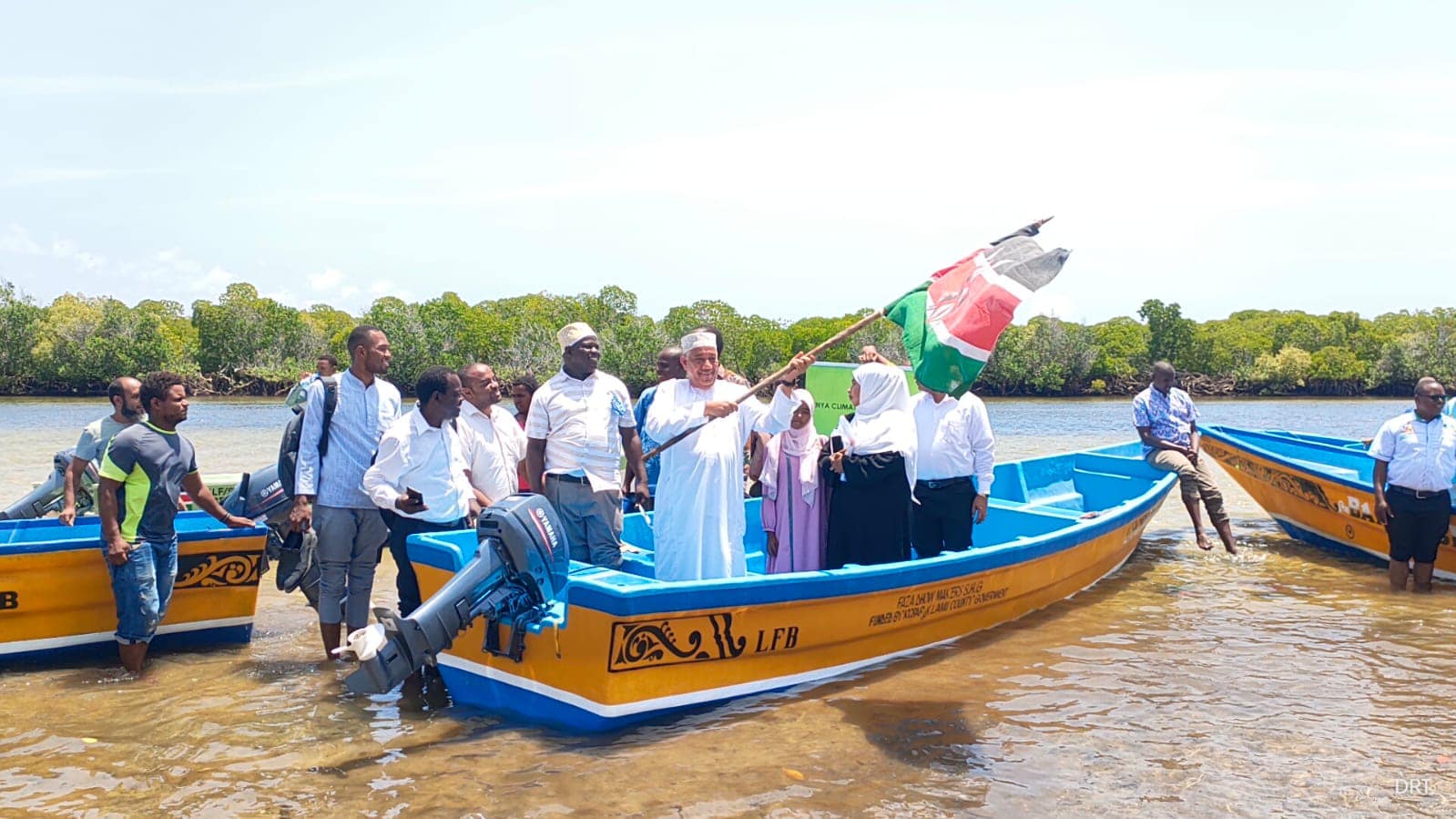 13 community groups from Faza ward have received 147 heifers, 21 bulls, five fiber boats and outboard engines under the County Government of Lamu in partnership with World Bank-funded Kenya Climate Smart Agriculture Program (KCSAP).
Presiding over the events in Rasini and Mtangawanda, Lamu Governor H.E. Issa Timamy E.G.H, O.G.W handed over five community fisher groups from Rasini with five fishing boats and five motor boat engines in an initiative that aims to diversify and promote food and income security for small holder fishermen groups.
"My Administration remains committed to continue supporting fisher community groups across the county in food production to ensure food security for all. The multi-faceted social protection program which is in line with Lamu County Government policy as well as KCSAP goals will go a long way in increasing food security and rural poverty eradication through better disposable income to households" Governor Timamy stated.
Addressing Kizingitini residents where 8 small holder farmers received heifers, bulls and goats, the Governor emphasized that the move was protracted towards transforming the local farmers from cattle herders to commercial farming as well as having a vibrant food and nutrition secure county.
Agriculture C.E.C.M Hon. James Gichu congratulated the beneficiary groups and commended the area residents for their hard work and determination, he further asked them to take good care of the animals. He also said his department will be carrying out random inspections to ensure the grants are being managed well.
The beneficiary groups that received fiber boats and outboard engines at Rasini are;
1. Bahamisi women group fiber boat and outboard engine
2.Tarazzak Loans and Savings Self Help group-Pate
3. Kizingitini Youth Empowerment network
4. Ronaldinho Fishermen Self Help Group -Rasini
5. Tumaini Youth Group- Mbwajumwali
Those that received goats, heifers and bulls at Mtangawanda include;
1. Pate Muungano Self Help Group 20 heifers, 2 bulls
2. Pate Kisiwani Women Group 21 heifers, 2 bulls
3. Riziki Self Help Group 21 cows 1 bull
4. Bahamisi Majukumu Youth Group 21 heifers 2 bulls (Mtangawanda)
5. Mabroq Siu Self Help Group 20 heifers 2 bulls (Pate)
6. Bwanajungu Women Group 20 heifers 2 bulls (Pate/Mtangwanda)
7. Chundwa Subira Women Group 84 goats
8. Siu Community Self Help Water Project 20 heifers 2 bulls
In attendance was County Secretary Amb. Ali Abbas, Chief of Staff Mr. Abdulnasir M. Issa, Chief Officer Kamalu Sharrif, Faza Ward M.C.A Abubakar Mohamed alias Simba, Lamu KCSAP coordinator Steven Mbuvi among other county staff.
-Ends-
For more information contact:
Lamu County Government Communications Office at info@lamu.go.ke